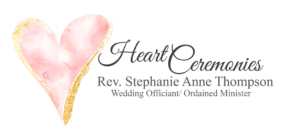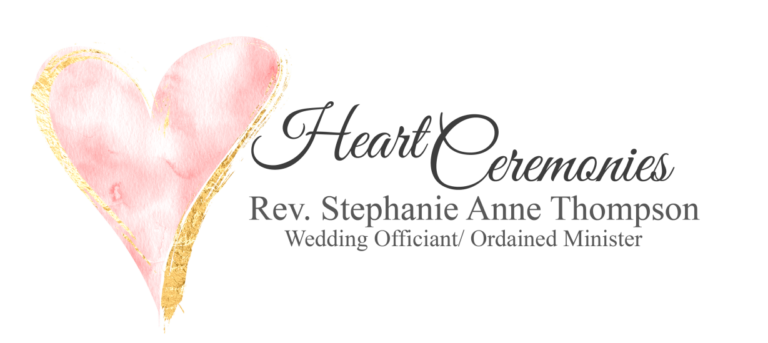 (610) 762-9137  |  info@heartceremonies.com
---
To couples considering Stroudsmoor Country Inn:
In 2002, I performed my first wedding as an officiant/ minister at Stroudsmoor Country Inn. And, I have been honored to perform many more over the past seventeen years. It is always a joy to work with the staff at Stroudsmoor Country Inn.
When I perform a ceremony at Stroudsmoor, I know that the couple will have their hopes and their plans become reality. Their Event Planner has provided assistance with every detail for the day. The Wedding Party is fully informed about what they need to do, where they need to be. The ceremony site will be ready, accented in just the way the couple requested. In the minutes before the ceremony, I see the Event Planning staff direct family and guests to where they need to be. A couple never has to worry about this at Stroudsmoor! I so appreciate that I can focus on a couple and do not need to help pin on a boutonniere, or direct someone to the parking lot of help find a needle and thread to sew on a loose button.
Over and over, I have witnessed the superb care and hard work that the Event Planning staff provides couples. I know just how much guidance and support couples receive from their Stroudsmoor Event Planner throughout the planning process to the day of the wedding. The attention and care offered to couples is unparalleled in my experience. Without the additional expense of hiring a wedding coordinator, I see firsthand just how much 'bang for their buck' couples receive from the services offered by the Event Planning staff. They information from their extensive experiences; they may offer advice if asked, too. The guidance, support and encouragement of the Event Planners are a great help for couples.
Stroudsmoor Country Inn has options for every budget and every couple. The same quality of care, attention to detail and delicious food is offered to couples whether they are planning a wedding for thirty guests or three hundred. This fact alone makes Stroudsmoor unique in many ways!
Stroudsmoor's staff is one of its greatest resources. The Event Planning staff is a wealth of knowledge and strength. Couples do not need to worry about losing the support of their Event Planner midway through the planning process. The stability in the staff across the board provides guests and couples with quality, continuity of service and a depth of experience.
I am proud of the relationship that I have with Stroudsmoor Country Inn and the quality of care and support I offer to couples getting married at Stroudsmoor.
– Rev. Stephanie Anne Thompson, Wedding Officiant/ Ordained Minister