Woodsgate features two unique ceremony sites for you to choose from. The Woodland Chapel sits amongst a canopy of rustic oak and maple trees. A cobblestone path creates an aisle that winds past a charming waterfall, and offers bench seating for guests surrounding a fieldstone and cedar gazebo.
To ensure the best day ever, an open-air pavilion adjacent to the building offers a "Plan B" option for your ceremony. A fieldstone fireplace and privacy wall with coach lights and wrought iron gates surround the pavilion and the entrances to the Woodsgate cocktail area.
Both of these unique, rustic wedding ceremony sites at Woodsgate offers space graciously accommodates for 75 to 150 guests.
Our reception hall is crafted from a centuries-old barn. Cocktails and hors d'oeuvres are served in the lower level of the building. Dinner and dancing follow on the upper level where grapevine and lights highlight the dance floor and grand windows surrounding the room offering a view into the woods.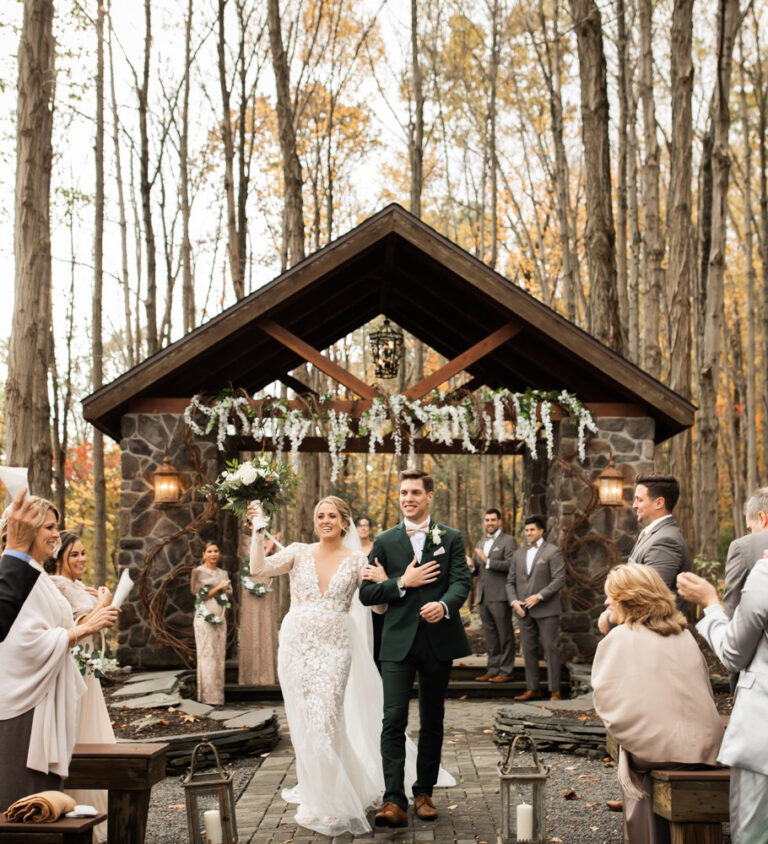 Start planning your Woodsgate wedding!
Receive package information, and arrange a tour with a Stroudsmoor Wedding Planner.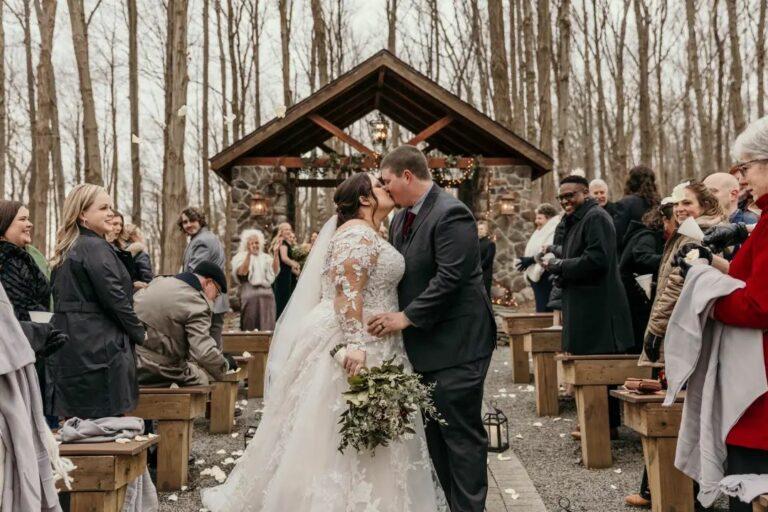 Stone barn venue for your rustic wedding
Woodsgate is a 200-year old barn – restored with a rustic-chic vibe. Built of stone, slate and oak beams, the cocktail area features comfortable seating, fireplace and chandeliers artfully made of branches from the Inn's fallen trees.
Perfect for those couples looking for a rustic-chic, country-elegance and woodland wedding in the scenic Pocono Mountains, Woodsgate makes the perfect location for your wedding day.
"Thank you so much for everything, we are so appreciative and had such a incredible experience. It was beyond what I had thought it was going to be and we cannot thank you enough for making this day one to remember forever.
We are so grateful to be a part of this family! Thank you to everyone xoxo"