Wedding Reviews we proudly receive from couples married at Stroudsmoor Country Inn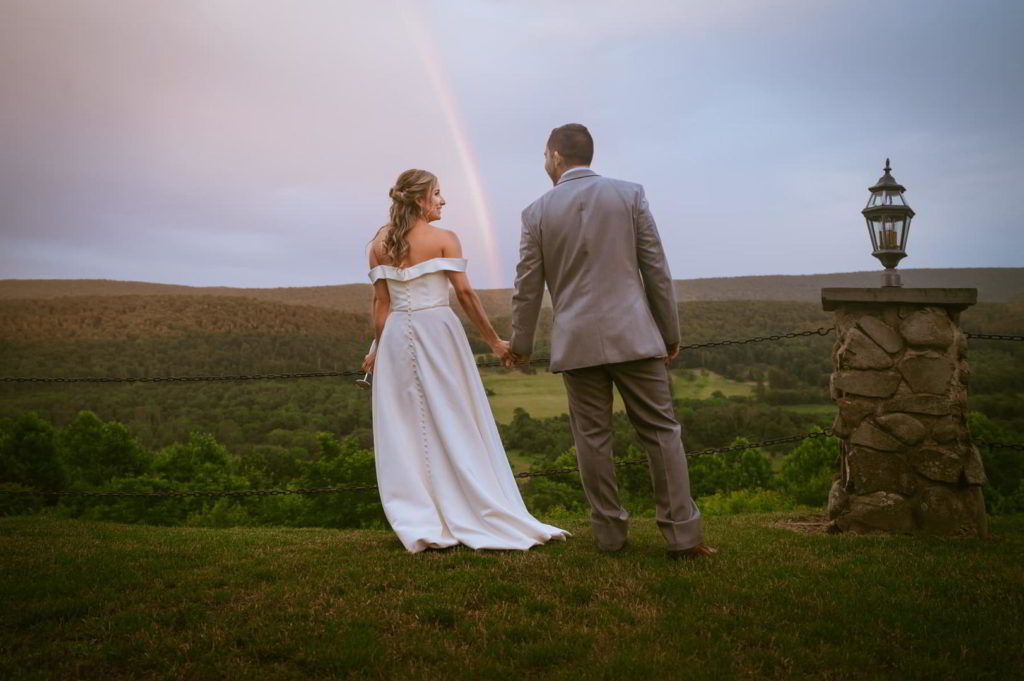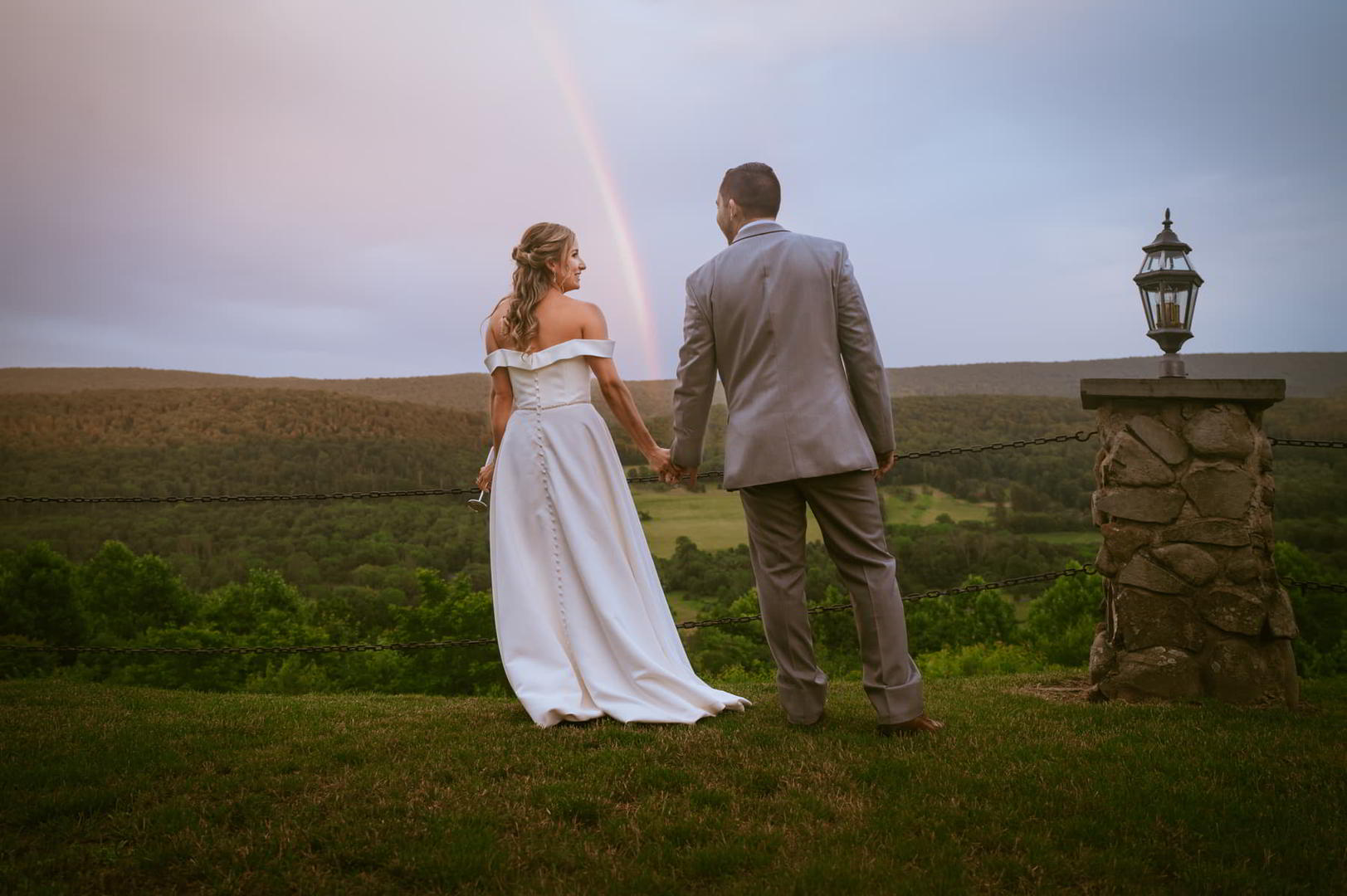 For over three decades, Stroudsmoor Country Inn has been the premiere wedding venue in the Pocono Mountains. Our six indoor/outdoor wedding venues have been recognized as exceptional by local and national reviews, our community, and most importantly, our clients and their families.
The Stroudsmoor Wedding Planning Team is privileged to serve couples beginning their lives together and we value the many accolades we receive from them. We've served many couples from Northeast Pennsylvania, Northern New Jersey, and New York City, as well from around the World.
These words of kindness are from couples who have enjoyed their #bestdayever at Stroudsmoor. Many Stroudsmoor couples frequently return to celebrate anniversaries, birthdays, or welcome new additions to the family. Our entire family proudly thanks them for their confidence and trust.
Start planning your dream wedding!
Receive package information, and arrange a tour with a Stroudsmoor Wedding Planner.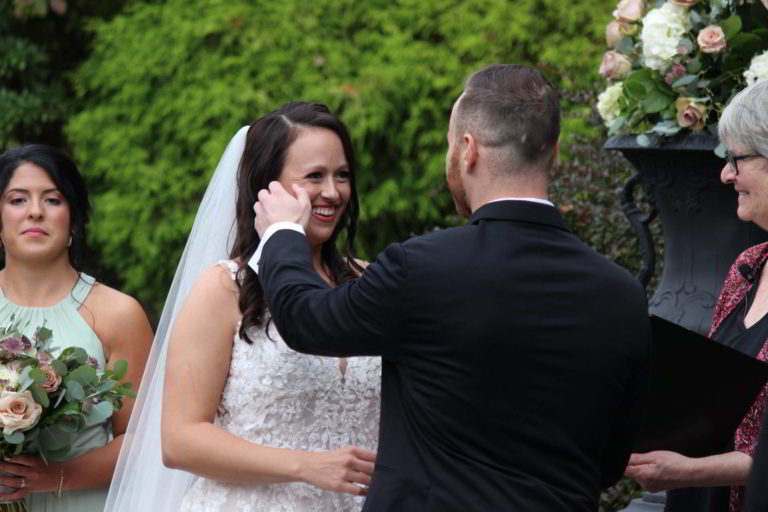 "We just wanted to reach out and say thank you so much for everything you did for us. We had an unbelievably amazing day. We appreciate it all so much. Thank you for all your help throughout the process and on our wedding day. We will be recommending the Stroudsmoor to any of our newly engaged friends. It was such a great experience and all your help made our day even more perfect. Thank you!"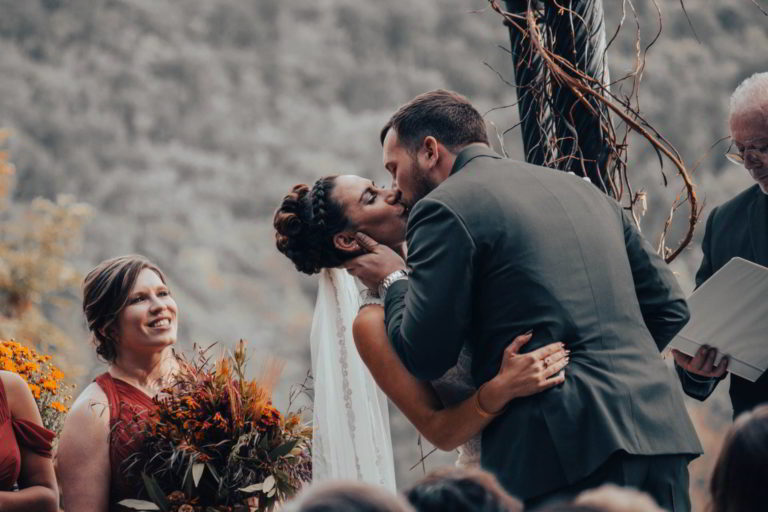 "I can't tell you how thankful I am for all you did to make Nicole and Rob's wedding so special! From cultivating a most beautiful + elegant venue with exceptional food + service to the generously kind gifts you bestowed on us for the reception, we thank you! The champagne toast, the Italian cookies, and the pretzel station added charm + fun to Nicole + Rob's wedding!
You and your family have certainly grown Stroudsmoor into a gem in the Poconos! I can't even imagine how many couples celebrated the start of their married lives with you! Chris and I couldn't be happier that we did…and almost 30 years later, so did our daughter!
Thank you for everything, and for all the kindness you have always extended to me and both my nuclear and extended family!
With love and thanks,
Judy + Chris McDermott"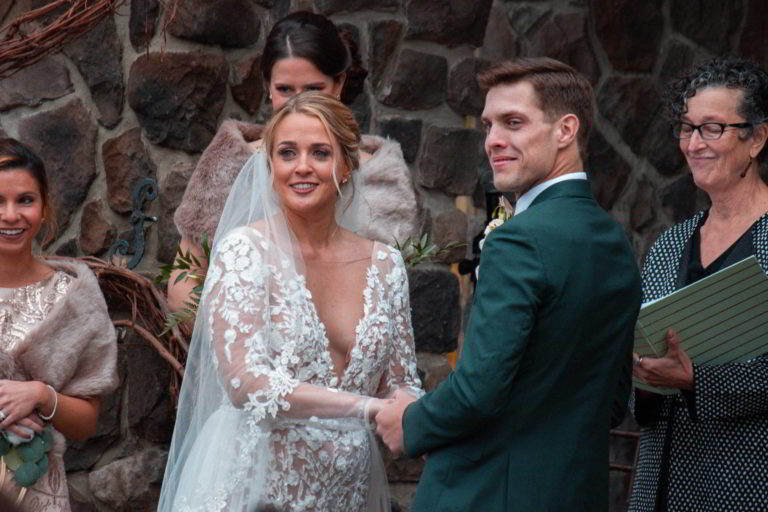 "WE LOVE YOU! I could go on and go thanking you up and down for every little detail, but please know that you are all so incredible. Stroudsmoor is an absolutely beautiful property and business with even more beautiful people behind the scenes. We are so, so grateful and couldn't have had the amazing day we did without you. "
Rebecca & Daniel DiStasio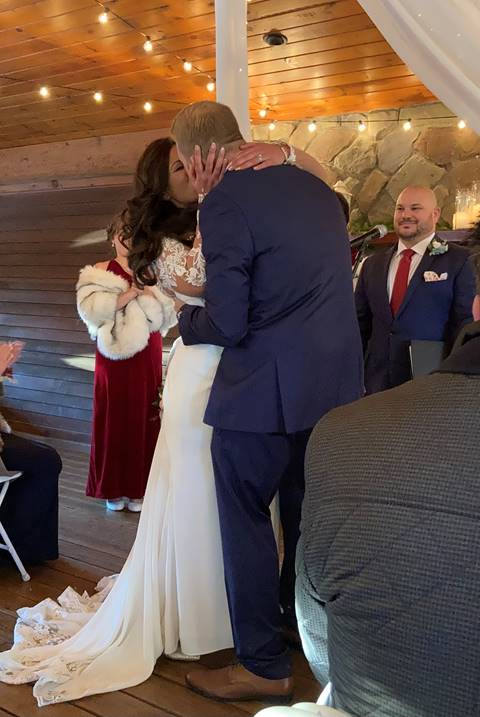 "Every single one of our guests had an absolute ball! They loved the decorations, venue, food, all of it. My family isn't an easy bunch to please and YOU MADE IT ALL HAPPEN so thank you for the brunch accommodations, the last minute extension, ALL of it! Thank you!!!"
More reviews from our amazing couples
"Thanks so much! The minimony was a complete dream. We absolutely loved it. Thank you for all your help and reassurances the day of… You really made it seamless! We can't wait for the big party with our friends and extended family next year. If there's any part or piece of the planning timeline coming up for us let me know so we get back in that mode cause right now we're still riding Wedding highs! Thanks again for everything!"
Ashley Darrow, Minimony October 17, 2020, Terraview – New Reception date October 30, 2021, Terraview
---
"The day was absolutely perfect! Thank you and your team for all your hard work and dedication to ensure our day was perfect! The floor manager, was absolutely amazing. He ensured that everything ran smoothly after you left. It was a beautiful day!"
Kevin & Stephanie Kapalka, October 17, 2020, Woodsgate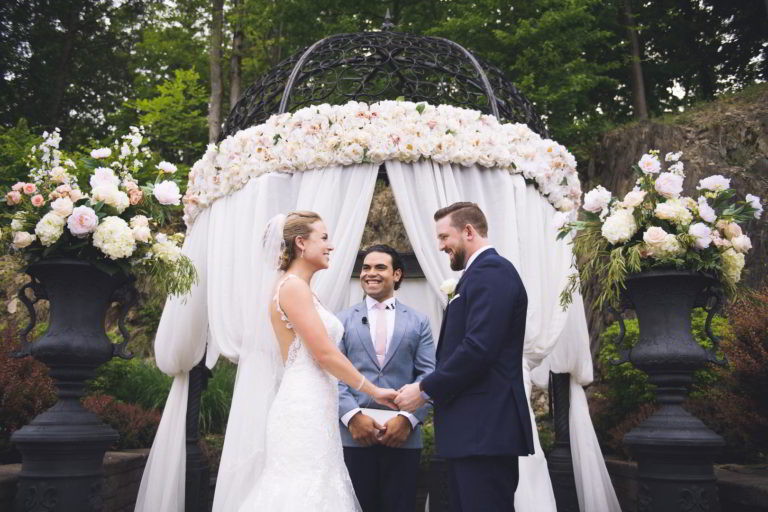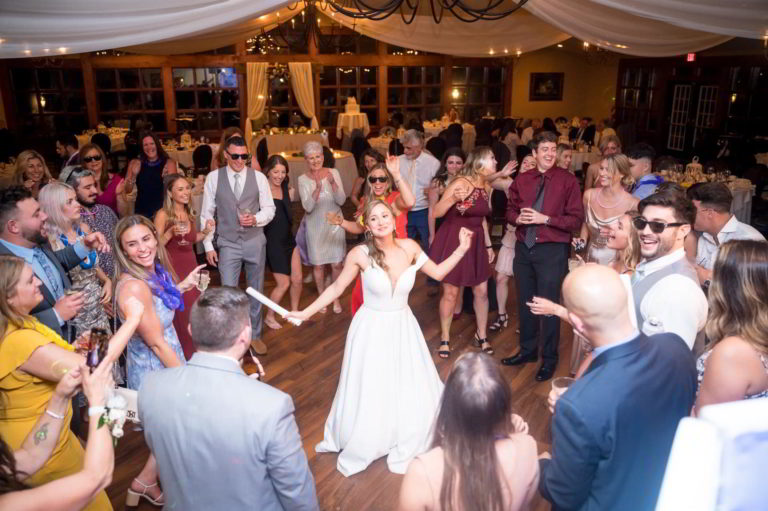 "I kept meaning to write to you after our wedding-thank you so much for all your help.  The food was tasty, the cake was excellent, and the service and florals were topnotch.  While we weren't able to get to Stroudsmoor during the planning, we felt like we were in incredibly capable hands and everything with our reception dinner went smoothly.  As important, we felt safe.  We look forward to revisiting in the future! Thank you again!"
Kristy Swartz & Dennis Fleming , October 13, 2020, The Stone Room
---
"Thank you so much for such a wonderful wedding weekend! Sean and I are so grateful for everything you and your staff did to make the day run smoothly and without a hiccup! Everyone kept coming up to us saying that our wedding was beautiful and so well put together and we couldn't have done it without your help and guidance! We enjoyed every moment. Please once again can you send our thanks to all of the Stroudsmoor Team.
The newly wed Mr. and Mrs. Ziller"
Alle and Sean Ziller, October 11, 2020, Woodsgate
"I wanted to thank you so much for putting together a beautiful elopement for us. It was a day that we will never forget. It was so easy, stress free, and simple (which you know is exactly how Gabe and I are). The dinner at the inn was delicious and I thought the champagne, personalized flutes, and mini cake were such a nice touch to have with dinner in addition to the ceremony. I am so glad I did not have to worry about a single thing and knew our ceremony belongings were well taken care of and would make their way back to the room. It was so nice not to have any stress on our wedding day. After the ceremony, we went off and took amazing photos all around the Stroudsmoor. I have some photos attached to this email for you to see!
Gabe and I just got home from our week long "mini-moon" in the Finger Lakes and am finally able to sit back and think about this past week. We cannot wait until next year for the big wedding. My family is counting down the days all over again until the big day (#2). Gabe and I know we will have the best wedding ever next year with you in charge!
Let me know as this next year progresses when you want to talk/meet to go over details for the wedding (I don't plan on making any big changes to next year). Crossing my fingers COVID will be long gone by then…
Lastly, please just remind me of the address of the event office. Thank you!"
Sam & Gabe Bigatel, "Minimoni", September 27, 2020, Wedding Reception, October 8, 2021, Woodsgate.
---
"What can we say, this review is way overdue but it was the hardest thing to put into words. October 26, 2019 was single handedly the best day of our lives. Yes because us as best friends got to marry each other, but Linda and the Stroudsmoor Country Inn family made the impossible, possible. Dealing with a cross cultural wedding, an insane guest list, countless meetings, phone calls, emails, and guest bookings on site that changed who knows how many times was just the beginning, Linda was a God send. I have never personally met someone as poised and professional as her. What she can do to make your dream wedding has no limits and she does it with class, compassion, and heart. She genuinely cares about her couples and calms every anxiety about the process you might have. We were and still are today so thankful for what Linda has done for us.
And as far as the day of the wedding, we want to shout out Belkis, our personal Wonder Woman! Belkis, from the bottom of our hearts.. Thank you! Thank you for keeping us calm… Thank you for assisting us with our every need, want, and desire…as well as our bridal party's and family's as well. You are an amazing woman and much appreciated!
We can't tell you how many people have told us this was the best wedding they have ever been too. And even a year later we continue to receive those sentiments. We were truly blessed to have Linda head our wedding from start to finish with many extra surprises she had up her sleeve (don't want to mention to ruin any surprises, but oh my!). Thank you for everything you have done for us Linda, we appreciate you and love that we are now apart of the Stroudsmoor Family!
Jenny Prakash"
Prakash/Belokopitsky, September 26, 2019, Terraview
---
"Words cannot express how amazing our experience with The Stroudsmoor was from start to finish! We started planning our 9/25/20 wedding at Lawnhaven in the summer of 2019 and when COVID hit in March 2020 we had no idea what was going to happen or if we'd even be having a wedding. The Stroudsmoor Team was in constant contact with us. We were lucky to not have to make any major changes to our day as our wedding was on the smaller side to begin with, but every member of this team made our big day effortless. Any and all "problems" were resolved before we knew there was an issue, any requests were honored to the best of their ability, and all questions (including the day of) were answered immediately. My aunt broke her leg the day before our wedding and they tracked down a wheelchair for her!! My attendant was there every moment for anything I or other members of our wedding party needed.
We are so happy that we chose The Stroudsmoor for our wedding, and it was everything we imagined and more. Our guests couldn't rave enough about the property, the venue, the food, everything! I cannot imagine ever getting married anywhere else.
Thank you Stroudsmoor crew!! We'll see you on 9/25/2021!!"
Amie and Brendan Smith, September 25, 2020, Lawnhaven
---
"We hosted a Covid wedding. For the entire team at Stroudsmoor to adapt to the situation the way they did was incredible! The ceremony was beautiful, reception venue took our breath away and to put our dance floor outdoors was genius! Highly recommended 👍 They even upgraded our meal package to a buffet style (higher cost) and added an extra dish for no cost👍. Thank you!"
Destini and Tristian Lopez, September 11, 2020, Woodsgate
---
"RON and I are at Stroudsmoor tonight celebrating our 1-year anniversary. We have been thinking about Stroudsmoor and hope you are all doing well.
We have such fond memories of Stroudsmoor. Miss you and wish you well!!"
Love RON and Diana Zoll, Anniversary 9/7/20, Married 9/7/19, Woodsgate
---
"We are right now in Alaska waiting for a tunnel to open so we can make our way back to Anchorage. So we wanted to write to say how very thankful we are for all of your help before and during COVID and leading up to our wedding day. You made everything so easy for us to manage even with of the changes that came. From moving the date to saving a backup for next year to the tents when we had to move outdoors. We are more than extremely happy that we choose the Stroudsmoor and had you as our planner. The night was perfect and everyone has told us nothing but good things and how much fun they had and how fantastic the food and service was! We will definitely be coming back to stay a night and for dinner possibly for our anniversary, if we can wait that long. There are not enough words to describe how thankful we are you and everyone at the Stroudsmoor."
Nicole & Andrew Walters 😍 ❤ August 7, 2020, Terraview
---
"Before time goes by any further, a note of gratitude for the phenomenal job Stroudsmoor Country Inn performed for my daughter Regina and her husband Nick's wedding reception on July 25th at Terraview.
Where do we start with COVID?? When we rescheduled the original May 9th wedding date back in March, we thought it would be smooth sailing when the new date of July 25th rolled around. Monroe County finally reached the "green" phase. But as you well know 10 days before the wedding a new restriction was imposed by the Governor for inside gatherings permitting only up to 25 people. That's when Stroudsmoor stepped into action, providing an option of going outdoors or rescheduling. We opted for the outdoors. It was a little bit sketchy in those first few days and I know Stroudsmoor was scrambling to make it happen for perfection (obtaining enough tents for guests to be comfortable, dance floor, DJ set up, etc.). You did it! What a relief. Everything was wonderful. Bar outside, beer station, plentiful appetizers, delicious entrees, extraordinary and attentive service. Thank you again for making the day happen for Regina & Nick! I know they were extremely happy. You could tell by the looks on their faces. J and for me too! Congratulations to you and the staff that served us on July 25th."
Gonzalez/Snyder Wedding July 25, 2020, Terraview, Mary Gonzalez, Mother of the Bride
---
"Top notch professionalism. Our daughter's wedding was this past weekend and they went above and beyond to ensure that it was a beautiful, although different than originally planned, day. They scrambled and adjusted accommodations in compliance with new COVID rules at the last minute. Everything was beautiful and our guests all had a great time. They also were very accommodating of my wife's severe dietary restrictions, continuously asking how to help and if she needed anything throughout the event. The food was delicious. Thanks, the appetizers were amazing and plentiful. The venue was beautiful. The staff was all friendly, professional, and helpful. I can't say enough positive things. GREAT JOB!"
Dincher/DeGennaro Wedding July 25, 2020, Woodsgate, Carl Dincher, Father of the Bride
---
"We just wanted to say an enormous thank you to you all. Yesterday, 7.19.20, was exactly as we imagined it would be, and more! The staff made us and our guests feel welcomed, and especially cared for. We can't thank you all for your patience and hard work enough. Barbara, you really made it all happen, but we also want to acknowledge Crystal, Belkis, and Jessica too for knowing what we need even before we knew and making everything flow perfectly. Our families also want to thank you for our hands in a truly special day. We'll be sure to tell others about this special place for years to come!! Thank you all, again."
Ben & Jenna Hughes, July 19, 2020, Lawnhaven
---
"Thank you so much for your dedicated planning and working to put our special day together in such short turn around! We truly appreciate all your hard work and these pictures! Looking forward to returning and visiting in the future!"
Urma and Thomas Bucek, July 5, 2020, Terraview
---
"Our friends and family enjoyed the wedding venue, wedding place, and your overall facility. They all left with beautiful and lasting memories. Thank you. Also, thank you for arranging the Cinderella Carriage. That was like the cherry on the top. Kiran and I love your place, and the cookings of your mom and chefs. we are planning to visit the place soon."
Jalil/Bucek Wedding, July 5, 2020, Terraview, AJ Jalil, Father of the Bride
---
"Just wanted to say that Katie and I were blown away this weekend, we couldn't of wished for a better wedding, even with the circumstances. Stroudsmoor kept protocols without making everyone feel burdened or strained. The floral arrangements were beautiful, the rooms were great, and most importantly the staff and venue site were beyond professional and accommodating. We really appreciate all the effort from Stroudsmoor for our wedding, and will be sure to spread the word out there for all involved parties. Once again, we thank you. Our friends and family said it was one of the best weddings they've been too. Couldn't have done it without all Stroudsmoor's hard work!"
Justin Buchicchio, July, 5, 2020, Woodsgate
---
"I would like to thank you and your entire team at Stroudsmoor for all help and support for all festivities
of Vishal and Allison's wedding and reception on Feb 9, 2020. Everything went smooth. You all made this day very special with your warm hospitality and your attention to details are exceptional. I would like to specially mention Good Fairy and Fixer, Ms. Belkis who rescued us from several emergency situations. Food and all arrangements were excellent. Everybody loved the amazing and delicious appetizers and spectacular fireworks. Kudos to your staff. You and your team are outstanding!"
Bailey/Dave Wedding, February 9, 2020, Ridgecrest, Bharat and Amita Dave, Parents of the Groom
---
"We just wanted to thank you and your team for such a wonderful wedding experience! From the hassle-free months of planning, to the in-prompt rehearsal dinner to a wonderful wedding day. Our overnight questions loved the Inn and all it had to offer. The day of the wedding we were able to enjoy a lovely breakfast with our guest before getting ready for our big day. The spa staff made everyone feel comfortable and took extra time with my elderly Sister who absolutely loved all the pampering. I just loved how my hair and make came out as well as my girl's hair and make-up. Next once we were dressed the flowers arrived even prettier than I could have wished for! Our wedding that was supposed to happen on a cold snowy day, happened on a Spring like January afternoon. Everyone was very happy since the ceremony was outside. It was just lovely. Once that was over all Darrin and I have been hearing about is the wonderful food at our reception! The cookie place cards were just adorable! The many passed appetizers and amazing sit-down dinner! Then OMG the banana walnut cupcakes!!!! So scrumptious! The cookies and milk bar brought out the kid in our guests and they are still talking about how amazing the cookies were!"
Lori and Darrin Brown, January 11, 2020, Lawnhaven
---
"We cannot thank you all enough for helping to create all absolutely perfect wedding day. We were so impressed from start to finish, and we felt – truly that our wedding was as important to you as it was to us. You all went above and beyond, made the process so easy, and were so delightful to work with – if we could do it again, we would! With love and gratitude."
Kristen and Tony Carino, November 23, 2019, Woodsgate