A few words from the Couple...
We wanted to say thank you for everything!
We are back in NYC (and back to reality) after our lovely time in Greece! Thanks so much for all of your and your teams' incredible help on our wedding day!
It was truly a magical day for us, exactly as we had hoped and envisioned.
— Hope & Julie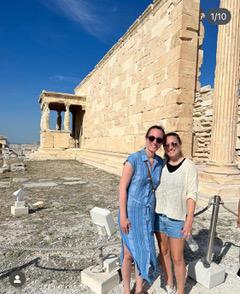 How and where you did you meet?
We met each other on Tinder while Julie lived in Manhattan and Hope lived in Brooklyn. Julie's profile read, "I genuinely enjoy reading the poetry on the subway walls." While Hope's read, "Call me Diane Lane, because my next girlfriend 'Must Love Dogs,'" a nod to our beloved dog, Zelda, and a movie they both have yet to see.
What was your first impression of one another, and the day you knew you would be together forever?
We met at a speakeasy in downtown Manhattan for our first date. We had been texting for a while beforehand, and both of us were relieved to find that the chemistry was great in person as well. We've been together almost non-stop since then! There was no singular "moment" for either of us that stands out, just a lot of little moments that proved how well suited for each other we are. At some point, when you've belly-laughed with someone multiple times a day for weeks and months on end, you know it's the real deal!
Tell us about the proposal?
We bought our rings together, so we knew it was only a matter of time before we were engaged. We both wanted to propose, but COVID restrictions made it difficult for us to plan anything at our favorite restaurants, museums, etc. Then, one beautiful November day in the city, the atmosphere felt electric and we decided spontaneously to go to the park and propose to each other under the willow trees.
Tell us what led you to Stroudsmoor and your reason for celebrating at the Inn?
Both of us wanted to get married surrounded by nature – we had visions of rustic altars in the woods. We also loved the idea of having those closest to us be able to stay on-site with us on our big day. A few Google searches later, we found Woodsgate and very quickly settled on it as our dream venue. One meeting with Linda was all it took to see how fantastic and helpful everyone at Stroudsmoor is, and how perfect the venue was to complete our vision.
What was the one menu and décor detail you loved most about your celebration?
We asked the floral department if it would be possible to have mushrooms incorporated into our bouquets, because we both thought it would complement the woodsy aesthetic we wanted. They said they'd never done it before, but came through and delivered amazing bouquets; they were one of the things we got the most compliments on from our guests! We also loved our wedding cake, which was vanilla cake with raspberry filling. Hope in particular is not usually a cake person, but was blown away!
What made your Stroudsmoor Wedding Journey most memorable?
How calm, kind, and helpful everyone was, including Linda, Ryan, Jeannie, the floral department, hair and makeup team, and all the other servers, etc.! Beyond just being incredibly helpful, they took care of everything so that we didn't have to worry about any details throughout the wedding and reception. As two somewhat anxious brides, we both were so grateful!
Share a hope for your first anniversary.
We hope we'll be settled in a new home next year enjoying nature, reminiscing, and eating the top of our wedding cake.
Vendors and Services Provided
| | |
| --- | --- |
| Flowers/Decorations | Stroudsmoor Floral & Décor Team​ |
| Wedding Cake and Desserts | Stroudsmoor Inn Towne Bakery |
| Catering | Stroudsmoor Country Inn |
| Officiant | Susanne Wilson |
| DJ | Gary and Jordon |
| Photography/Video | Peter Mackey |
Here are a few photos that tell their wedding day story . . .