A few words from the Couple...
"The entire Stroudsmoor staff is beyond amazing!
Every last guest has been ranting and raving over every detail of the day. We have guests who are planning to go back for stays and even one who attended a Friday night buffet since our wedding.
We can't thank you all enough for bringing our weekend to life. Gavin's ready to do it all again, I'm not prepared (lol) as he (kinda) just sat back and let me deal with it all but maybe in 10 years!
He and his brothers are hard to please with food and they all were impressed and had nothing but great things to say. My brother in law said we set the bar with the celebration and it is all thanks to Stroudsmoor."
– Kristie Bochman (Farella) and Gavin Farella, August 20, 2022 Terraview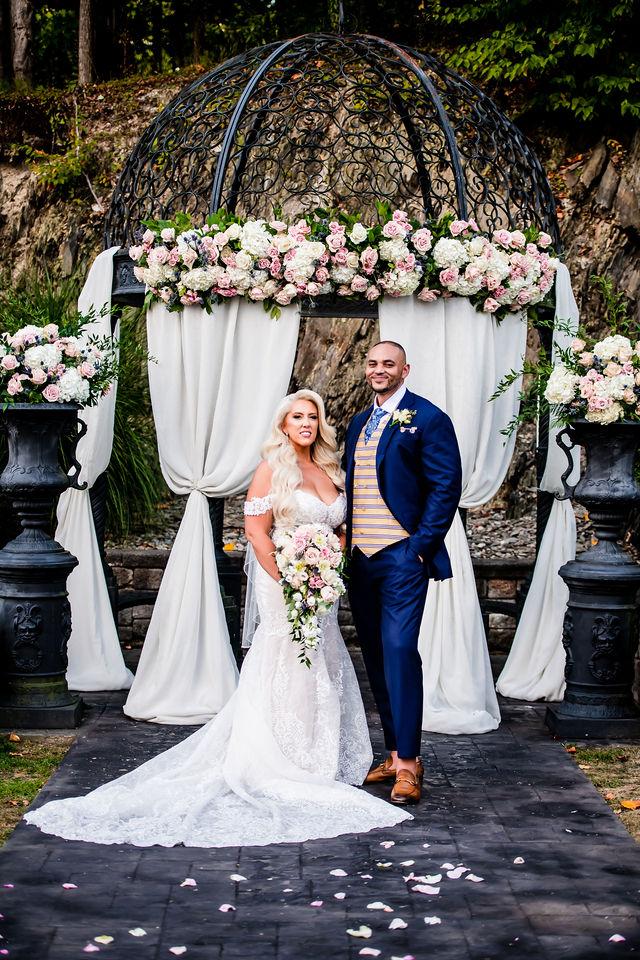 How and where you did you meet?
We met on a dating website in 2013. We talked for 3 weeks before meeting in person.
What was your first impression of one another, and the day you knew you would be together forever?
We hit it off right away our first date lasted about 4/5hrs just talking at a lounge.
Tell us about the proposal?
After 8 years of being together I never thought it would happen. But on New Year's Day at home getting ready for bed I turned around to him on his knee with a ring saying he didn't want to go into the year just being bf and gf still.
Tell us what led you to Stroudsmoor and your reason for celebrating at the Inn?
The Stroudsmoor is near and dear to my heart. Growing up going here for family events, holidays and other cousins weddings, I always knew it's where I wanted to get married.
What was the one menu and décor detail you loved most about your celebration?
There honestly wasn't just one thing. Every last thing that day exceeded our expectations. I couldn't have dreamt up a better day/experience.
What made your Stroudsmoor Wedding Journey most memorable?
Getting to work with Linda on this and all her attention to detail. She thought of everything.
Share a hope for your first anniversary.
To keep growing over the next year and so on.
Vendors and Services Provided
| | |
| --- | --- |
| Flowers | Stroudsmoor Floral & Décor Team |
| Wedding Cake | Stroudsmoor Inn Towne Bakery |
| Catering | Stroudsmoor Country Inn |
| Photography | Daniel Nydick |
| Videography | Barnone |
| DJ/sound equipment | LJDJS |
| Hair/Makeup | Ama Weddings |
Here are a few photos that tell their wedding day story . . .