Now, you may know the difference between an artemisia and a zinnia from the first posy article, but do you know how to make them into a bouquet perfectly suited for your wedding day? Should you pick a posy based on your height, your shape, your theme, your complexion, your persona, your dress, color, scent, and season?
The answer to this question and more is easy when you have a professional event planner and an excellent florist on your wedding team. Just in case you don't . . . I will send you my card! Seriously, every one of those attributes will help you select the right bouquet which will play a major role in the wedding day imagery and memory. As a way to ease some stress about bouquet selection, let's start by understanding more about the many types. Some types will fit to a "T" while others will be lost or overpowering depending on your stature, ensemble, and even your personality. Here is a list of the most selected types of bouquets/posies to consider.
Types of Bouquets
CASCADE: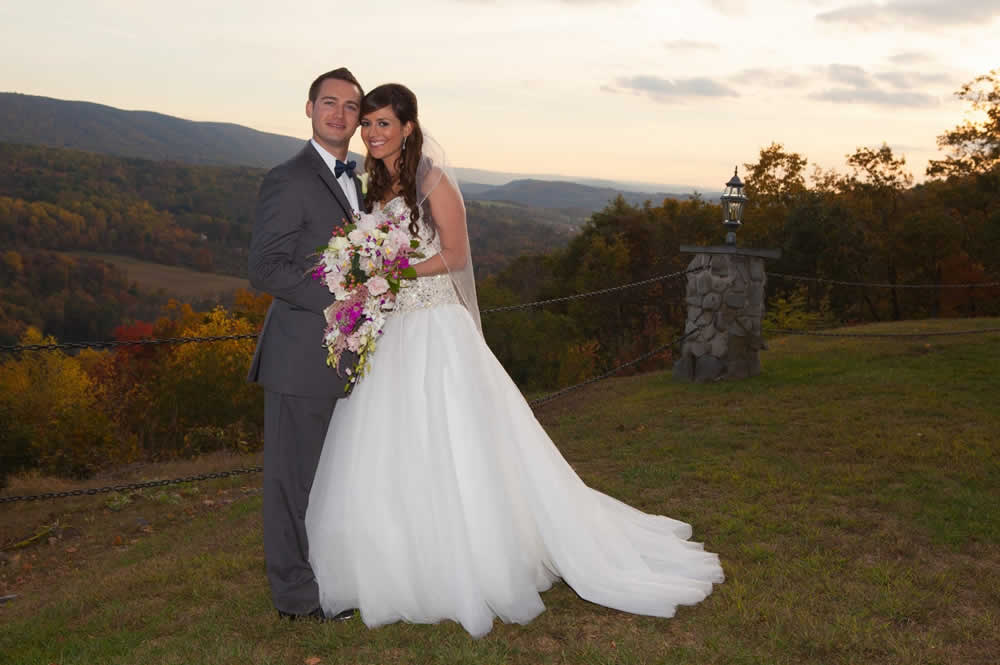 Think of an overflowing, waterfall-like spill of blooms and greenery anchored in a handheld base. Cascade bouquets resemble a miniature floral train. They support a taller frame and are best with a full-skirt and tight bodice. The cascade is usually a teardrop shape and works very well with full flowers (as shown) for vine-y greens and other natural elements.
A very famous Cascade Bouquet was carried by a "Royal" well known to us all. If you want to take a guess and win your perfect wedding bouquet, send your answer to the Wedding Warrior here.
COMPOSITE: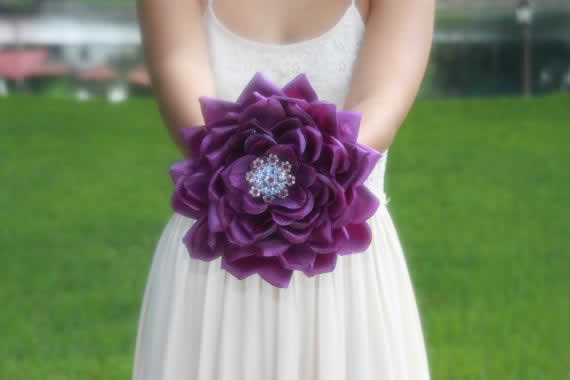 A handmade creation in which different petals or buds are wired together on a single stem, creating an illusion of one giant flower. This type of posy is often smaller in size and suitable for "garden-party" themed clothing like linen and cotton. Shirred skirt and spaghetti straps with sandals make a wonderful framework for the composite bouquet.
Hand-tied: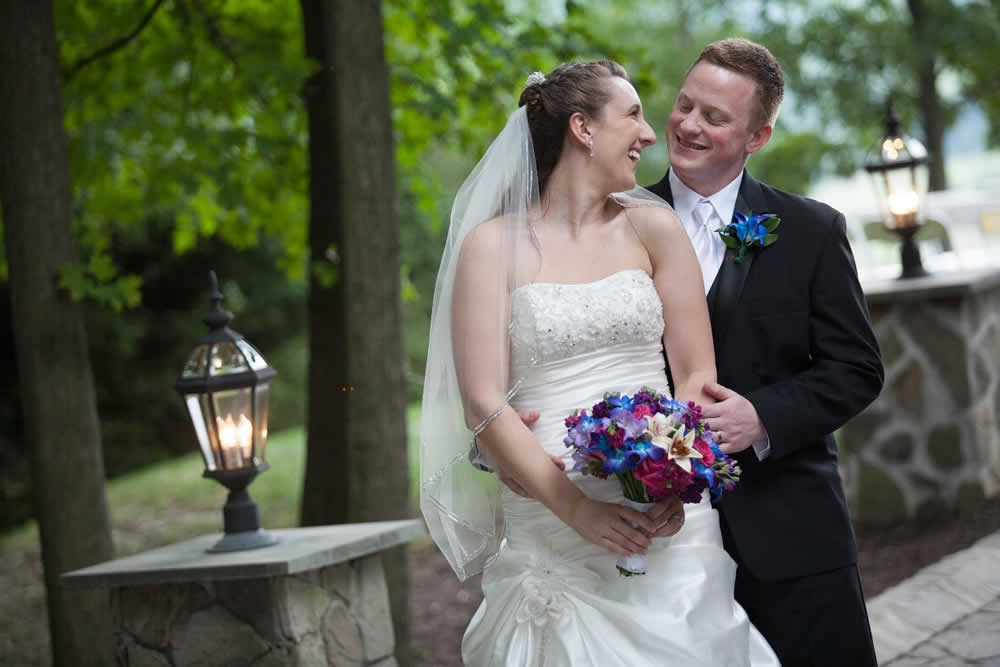 A dense gathering of "just-picked" or "varied" blooms tied together with wire or floral tape and finished with ribbon. Easy to hold, the hand-tied bouquet is popular with form fitting frocks. Especially those with empire bodice as in the photo above.
NOSEGAY: The smaller version of this type is called a POSY . . .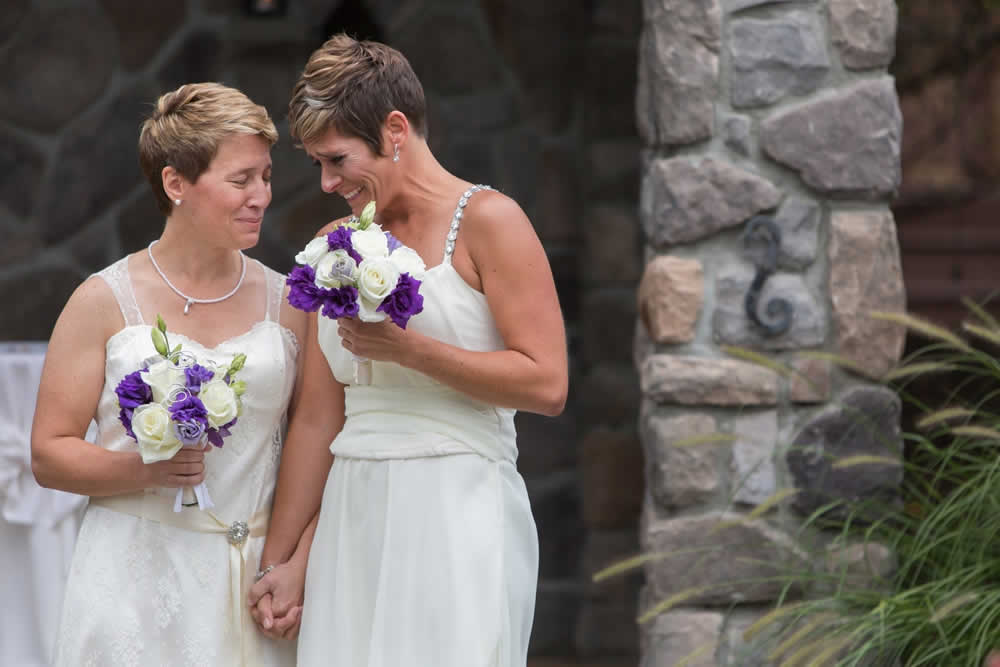 A small, round cluster of flowers, all cut to a uniform length. Usually made with one dominant flower or color, nosegays are tightly wrapped. They fit a wide variety of figures and dress styles. Sometimes called a tussie-mussie, the nosegay may have wrapped stems or a reusable holder which becomes a wonderful keepsake. Here are a few vintage tussie-mussie holders that would add to a "Victorian" theme.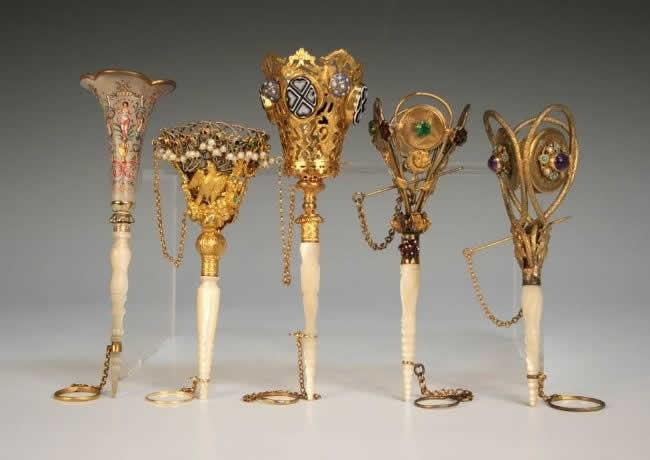 BIEDERMEIER: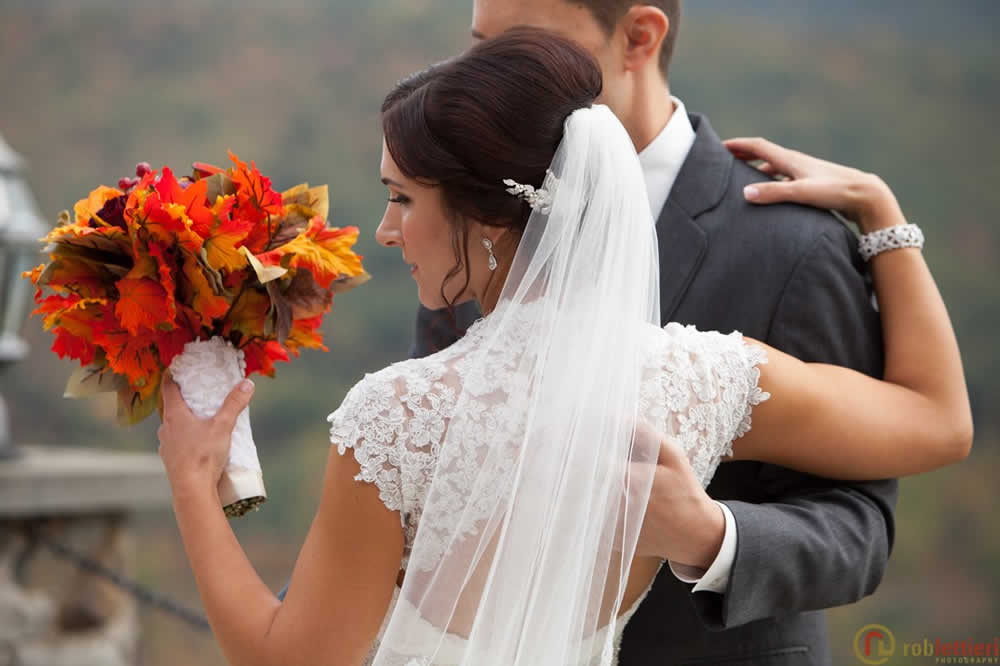 An arrangement of blossoms or greenery in concentric circles to create a somewhat striped effect, this type of bouquet gives the look of rings, which is symbolic of the "Wedding Ring Ritual". While it is difficult to see the rings in this bouquet photo – they were made of red roses which are a bold expression of love, red hypericum berries which were used by the Greeks to ward off evil, and the so very colorful fall leaves. Maybe not the best example of a Biedermeier Bouquet, but the photo was just so stunning I had to use!
PAGEANT: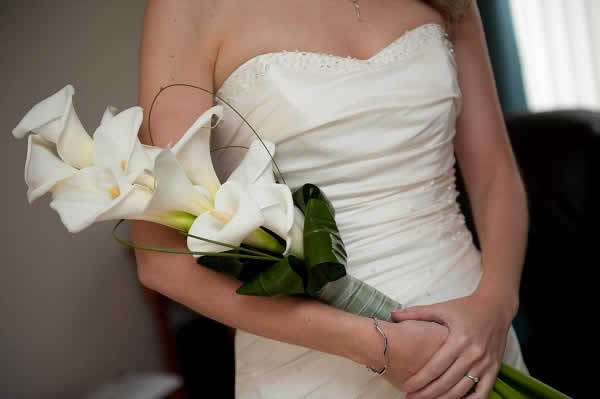 The Pageant Bouquet is classically made of long-stemmed flowers which are cradled in the bride's arms. Traditionally, Miss America was handed a bouquet of this nature for her crowning moment – thus giving it its name "Pageant Bouquet". The style is a perfect complement to the sheath-fitted or mermaid-style silhouette which creates a flattering illusion and a long and slender look.
POMANDER: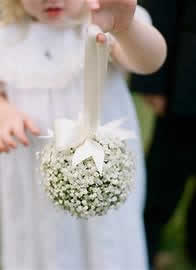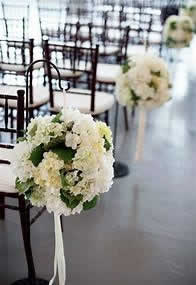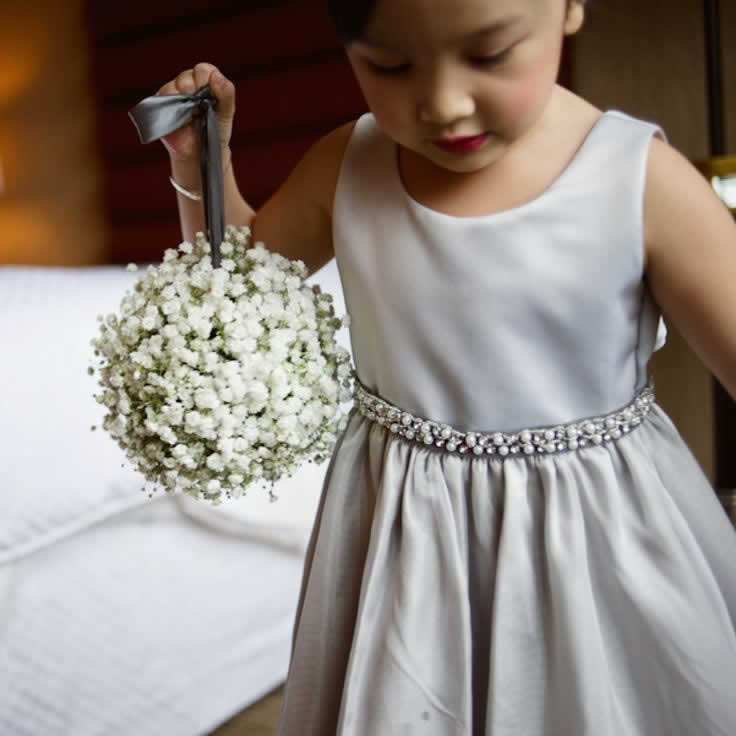 The pomander is a bloom-covered ball suspended from a ribbon, perfect for child attendants in lieu of flower baskets. Oftentimes seen hanging from a hook along the edge of the aisle possibly taking the place of the rose petal path or formal floor arrangements.
ROUND or ASYMMETRIC: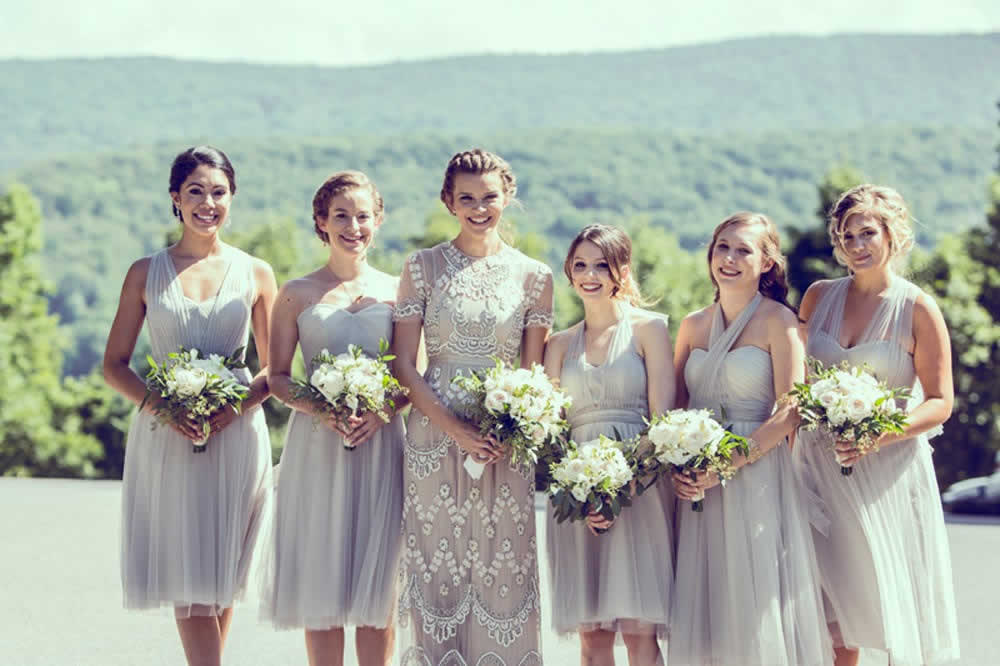 Similar to a nosegay but generally larger and usually consisting of plump, loosely arranged flowers. This bouquet can be done in an oasis holder or hand-tied as in the photo. It would be non-cascading but could be asymmetrical in shape. Oasis holder bouquets are always at a higher risk of damage especially if being handled for longer periods of time – for example if first look photography is scheduled before the ceremony with formal photos following. This style works well with larger flowers like peony or cabbage roses and complements a fitted or flowing skirt. Here you see the Round version against a variety of dress styles – and IT WORKS to tie everyone together as a bridal team!
I hope this list gives you an idea of how to pick your wedding posy. Rule #1 for making the final bouquet selection is . . . Get whatever your HEART desires! Rule #2: Hire an event planner with years of experience and an entire floral and décor team on her payroll.
If you would like to arrange a consultation and fitting for your wedding bouquet contact the Wedding Warrior at here.
[wpv-post-body view_template="wedding-warrior-cta"]