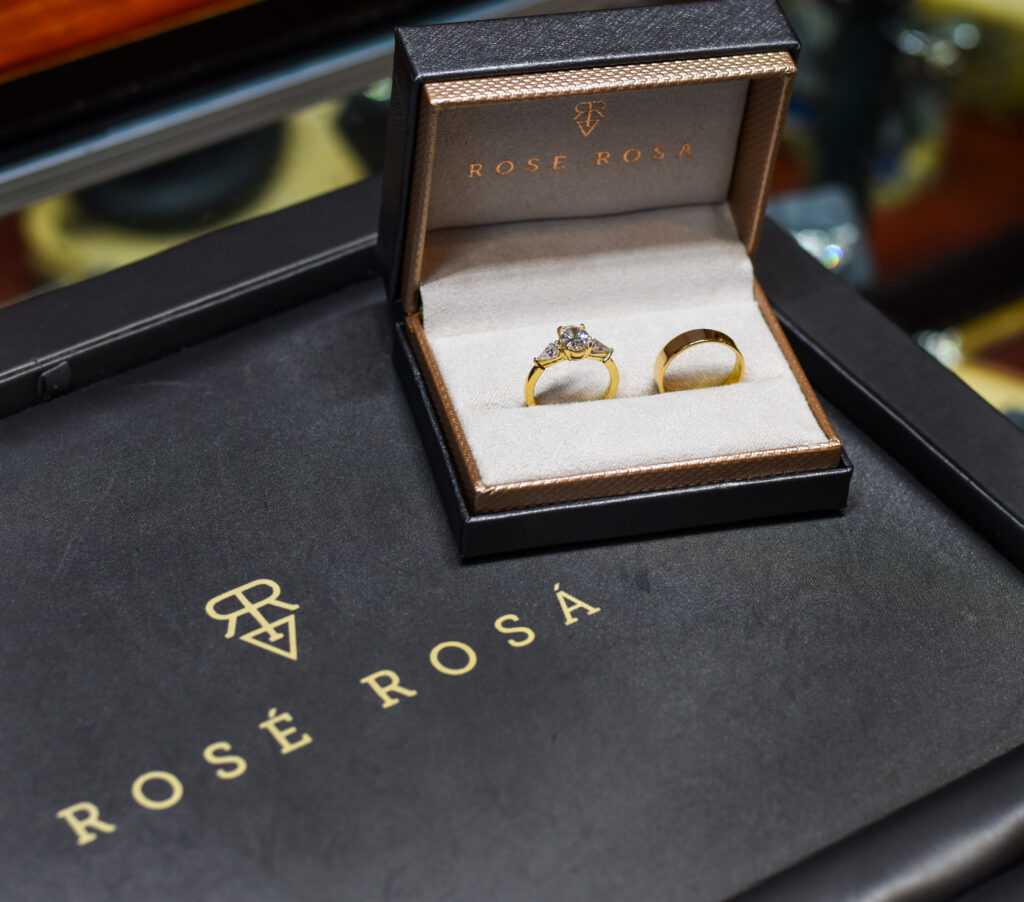 Each year, beginning with the winter holidays and on through Valentine's Day, social media explodes with photos of couples celebrating their new engagements. Ahead of ring season, Stroudsmoor is ready to talk with you about ring shopping! We share some news on current trends and styles, with insight from the professional jewelers at Rosé Rosá.
The Knot, a wedding industry giant, states that this year, popular engagement ring styles and designs for the 2023 Ring Season are diverse, colorful, and bold but simultaneously timeless in their appearance.
While speaking with the sisters that own and operate the local jewelry store—Velma, Miriam, Yannetch, and Sandra—we covered some of the trends they've noted this year and compared them to what other professionals with The Knot and BRIDES have seen.
While there, they were also kind enough to go over stone shapes and colors, band fits and finishes, and more with us, helping us to help you narrow down your options when picking the perfect engagement ring for your beloved.
Poconos Jeweler Talks 2023 Ring Trends
During our visit to Rosé Rosá, we were fortunate enough to get an up-close, personal look at some of their most extraordinary diamonds, engagement rings, and wedding bands for both men and women. While we snapped photos of large lab-created sapphires, glittering diamonds, and shining golden bands, Miriam noted that black gemstones—among other colors and shades—especially "have been in fashion" this ring season. This particular observation lines up with those made by both The Knot and BRIDES who both state 2023 has seen a spike in couples veering for a less traditional route.
"One of the main appeals of colored gemstones is that each stone will have its own distinctive character," BRIDES states. "Because no two colored gemstones are alike, these are wonderful choices for meaningful, personal jewelry."
The Stroudsburg jeweler added that another increasingly popular trend she's seen, especially with the current economy, is the purchase of lab-created diamonds and other jewels. The clear difference between natural gems and lab-created ones is simple: one is created artificially while the other is mined in nature.
While the process of creation for these precious stones differs significantly, standing in front of Rosé Rosá's glass case full of natural and artificial jewels, you wouldn't even be able to tell which is which!
Another benefit of the lab-grown diamond is that, unlike mined diamonds, they are—on the whole—environmentally sustainable. According to www.diamondere.com, this is incredibly significant for those couples looking to reduce their carbon footprint.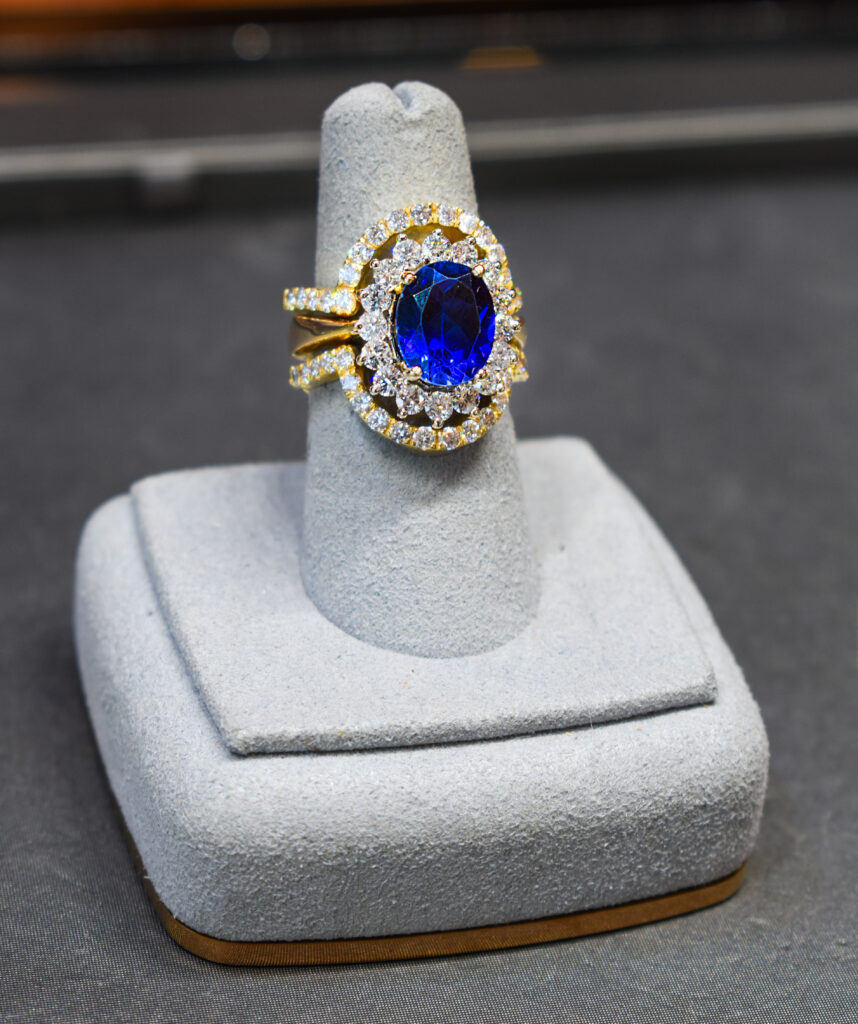 Picking Your Perfect Ring:
Before You Begin . . .
At face value, ring shopping seems pretty simple. However, our professionals want to make sure you know there are a handful of traits that define the perfect engagement ring—and (as if it could get any easier!) they all start with "C."
Below, you can find Rosé Rosá's diagram that lays out the importance of the 4 C's—cut, clarity, carat, and color. This chart is essentially universal within the realm of jewelry and can be used at any jeweler.
The 4 C's for Ring Shopping: Advice From Stroudsmoor's DEO
Knowing the terminology is all well and good, but what exactly does it mean? Stroudsmoor's Director of Event Operations simplifies the characteristics that make up your perfect diamond (defined in the chart below):
Carat Weight: refers to the diamond's total weight – not the size. That said, the larger the carat, the larger the stone. So if your spouse-to-be prefers a larger diamond, then a bigger carat is important.


Cut is the most important characteristic of a diamond. The cut defines the amount of sparkle in the gem.


Color is second most important. It refers to the lack of color within a stone. The less color, the higher the grade. If you're looking at a diamond engagement ring specifically, then opt for a stone with less color as the stone will remain clearer and allow more light to shine through, therefore creating greater shine and shimmer.


Clarity is often the least important of the characteristics. Clarity is based on the number of imperfections or inclusions in a diamond – many are so tiny they can only be detected by a microscope.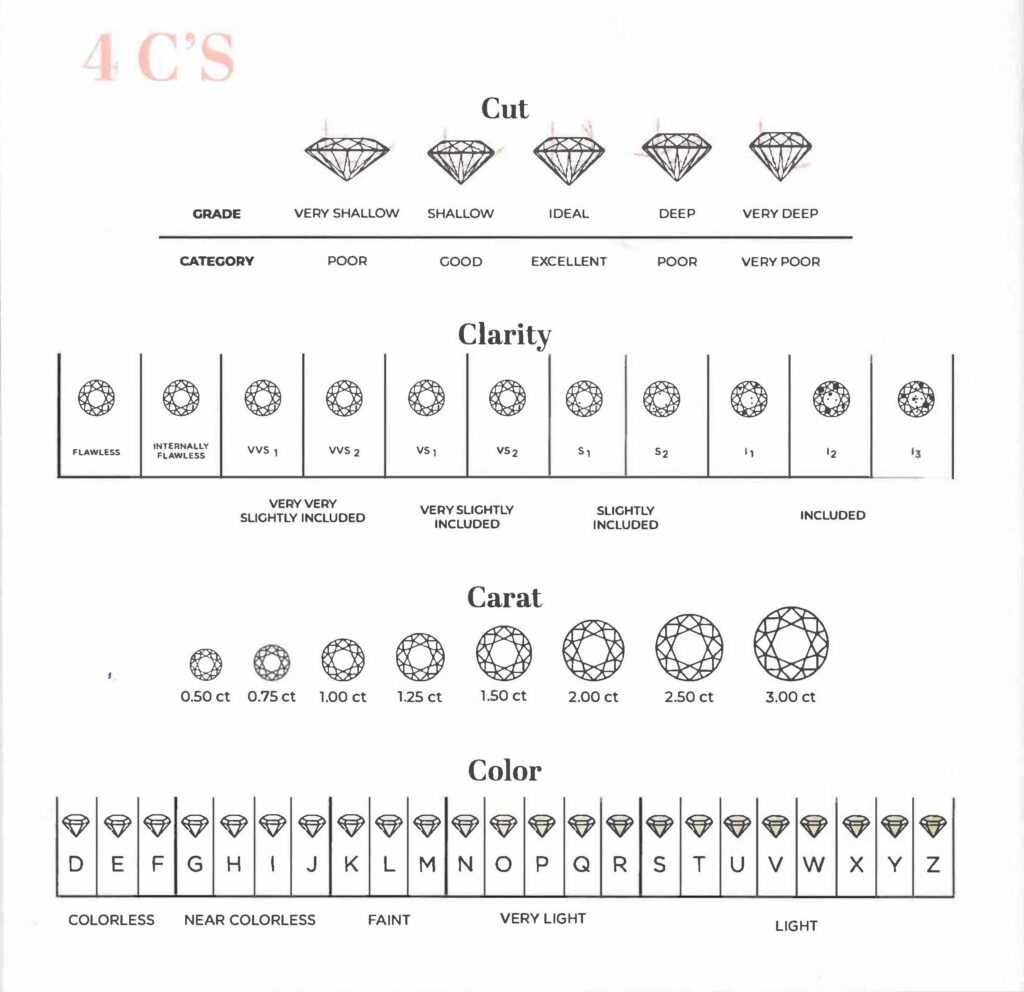 Stroudsmoor thanks Rosé Rosá for explroing this season's engagement ring trends with us and for showing us some of their beautiful collections. We look forward to seeing them at our upcoming Wedding Sampling Event. There, we welcome our couples to explore not only engagement and wedding jewelry presented by Rosé Rosá, but the entirety of Stroudsmoor Country Inn's Wedding Services and Products.
Bring your fiancé and meet with experienced Event Planners, explore bouquets and décor designs with our Floral & Décor Team, sample our Chefs' mouthwatering selections of entreés and hors d'oeuvres, and so much more.