A few words from the Couple...
"We cannot be more grateful for your service. You and your team made our day the best of all, our guests were delighted with the place, the food, the attention, absolutely everything was perfect.
We want to especially thank you for being so generous, so kind and helpful with us, for understanding us and for always being attentive to our doubts and needs, we couldn't have chosen a better place to celebrate our marriage.
I congratulate you and your team because you do a WONDERFUL job, and for sure we will return for future celebrations!"
– Stefania and Cristian Caro, February 26, 2022 Woodsgate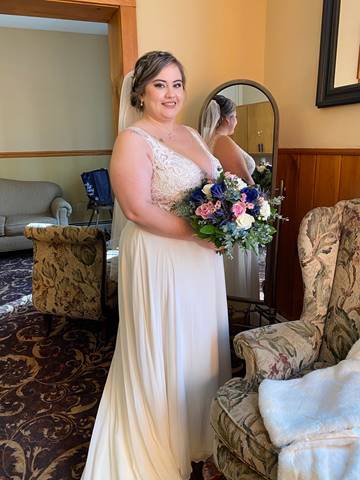 Tell us how and where you met each other?
I met my husband 17 years ago In Colombia, in a birthday party.
What was your first impression of one another, and the day you knew you would be together forever?
We have been together 15 years. I'm not sure when I discover that I want to be with him forever, it just happened.
Tell us about the proposal – show us the ring?
It was on the Hudson River in a cruiser diner.
Tell us what led you to Stroudsmoor and your reason for celebrating at the Inn?
Stroudsmoor was the first place that we visit, and it was love at first sight. It was everything that we have been looking for.
What was the one menu and décor detail you loved most about your celebration?
The beef dinner was awesome. I loved all of the decorations!
What made your Stroudsmoor Wedding Journey most memorable?
I married my husband in the beautiful Woodsgate on February 26, 2022, but first I must tell you that our starting date was June 5, 2021 at the Pavilion. Life brought us a misfortune just the day before the wedding and we had to cancel everything at the last minute! The Stroudsmoor team were angels at all times, they supported us, they did everything possible to make our wedding a real dream. Stroudsmoor is spectacular, the food is delicious, the waiters are attentive, and each team member was wonderful on the dat of our wedding. We will be eternally grateful with the Stroudsmoor team … they made our dream wedding come true.
Vendors and Services Provided
| | |
| --- | --- |
| Flowers | Stroudsmoor Floral and Décor |
| Wedding Cake | Stroudsmoor Inn Towne Bakery |
| Catering | Stroudsmoor Country Inn |
| Photographer | Aj Vinish |
| Florist | Grayson Davis |
| Officiate | Steven Workman |