There are many reasons to consider having a winter wedding.
The weather can add a touch of magic as snowflakes fall gently from the sky. Not to mention, your wedding photos will be breathtaking against a winter white backdrop. Winter events professionally planned are tastefully adorned, with all the elegance, style, and splendor that the time of year provides.
From the picturesque scenery to the affordability of the season, there's much to love about having a winter wedding. Let's look at the various incentives for having a winter wedding. Read on for a few pieces of advice.
An opportunity for stunning and memorable wedding photos
If you're considering a winter wedding, think of the beautiful snow-covered landscapes, frost-coated peaks, and the wonderful skies on a winter's day. Pennsylvania is a great place to have a winter wedding. The mountains are covered in snow and the skies are clear and blue. It's a winter wonderland! You can dress warmly and exchange vows in front of a cozy fireplace or outdoors in the snow. Photos of winter scenery are breathtaking and dramatic.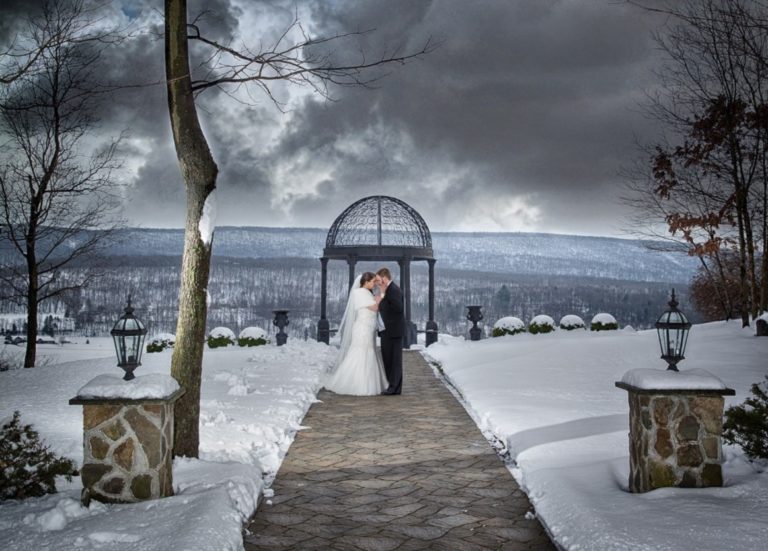 Consider having your ceremony in one of Stroudsmoor's six indoor/outdoor wedding venues. The natural beauty of the Pennsylvania mountains in winter is incomparable. When choosing a venue, find one that embodies your favorite parts of winter, like skiing down a powdery slope, warming by an outdoor fire, or standing atop a snow-covered mountain overlooking a valley blanketed by snow. Whichever you choose, your winter photos will be unforgettable.
Unique clothing and accessories that complement the season.
If you're looking for ways to reflect the season in your wedding style, consider adding some of these winter garments to your wedding ensemble.
Vintage furs can add a touch of tradition when wearing your grandmother's mink stole or cashmere sweater. Some say adding personal belongings of those we love warms our body and soul like Nicole and Alysea.
Epic boots can make a statement, keep you dancing, and ensure space for woolen socks to keep your feet warm at the altar. Mrs. Tobin kicked her heels up in western style.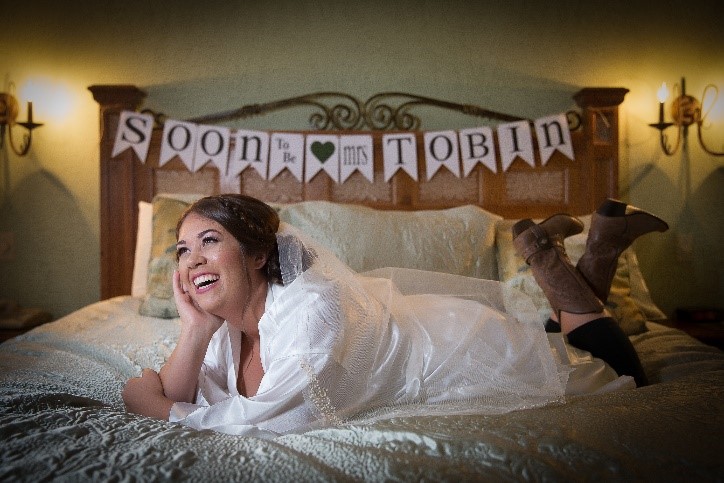 Say goodbye to the veil and design your hairstyle around the perfect winter hat!
The coat, the cape, or the shawl adds drama and warmth to a winter's wedding. Not to mention you'll forever remember the day as you wear your warm wedding covering for years to come!
Several beautiful flowers and greenery are in season in winter. Choose seasonal bouquets, boutonnieres, and centerpieces to accentuate your decor.
If you're worried that your winter wedding might be devoid of flowers, relax and rejoice! There are many flowers and greens to choose from during the winter. An equal variety of beautiful blooms are in season during colder months. Not to mention, mountains of evergreens that will highlight the blooms in a beautiful bouquet, unique boutonniere, or stunning centerpiece.
Here are some of our favorite winter flowers:
Anemones 

are fluffy and elegant, with petals that range from white to deep red. They make beautiful arrangements and can also be used to create a simple but stunning boutonniere. 

Bells of Ireland 

are another popular choice for winter weddings. These tall, spiky flowers come in shades of green, purple, and lavender, and add a touch of elegance to any arrangement. 

Camellias

 bloom from October through May, making them a perfect choice for a winter wedding. They come in a variety of colors, including white, pink, and red, so you can easily find one that will match your wedding theme. 

Don't forget about roses!

Winter weddings provide the perfect opportunity to use dark red or burgundy roses, which are perfect for adding a bit of romance. But, never feel you have to ditch the whites and blush colors for your winter wedding. 
Take a page out of this bride's book and highlight your bouquet of warm reds with the maids' blush whites. 
Consider a forest of evergreens.
Pine – white, blue, silver, and forest, pine comes in all colors, shapes, and sizes. Take a look at white pine highlighted by fairy lights and cobalt spots accented with touches of silver.
Cedar – nothing says winter like the smell of cedar on an open fire. Consider any of the four species of this conifer as part of your décor designs. In the photos below you see western cedar which is soft to the touch and fragrant to the nose. It is a linear branch that adds a feathery look to any design.
Salal – a lemon-shaped leaf that shows up in all seasons because of its strength in enduring the tests of weather extremes – warm or cold. Here you see "Lemon Leaf" in a wintery mix of greenery. Wreaths are the perfect way to say winter, so hang them on the doors, set them on the tables, or suspend them from the chandeliers.
Natural elements of the winter add a bit of rustic charm.
Pinecones – make a simple, but meaningful winter statement. The fruit of the pine tree comes in all shapes and sizes, it adds fragrance to a room and is a most cost-effective iconic winter element. Gather them from your backyard, and ask your family to send you some from theirs. Mix the shapes and species to signify unity and the blending of families. Then plant a family tree with your wedding pinecones and watch it grow!
Antlers – also come in all shapes and sizes. They add to the look of winter with their ivory white appearance and represent growth and change. Antlers symbolize spiritual authority as they appear to be worn proudly by the animal kingdom as a crown reaching to the sky.
Logs – add a 

rustic-chic

 vibe to the celebration. You can celebrate their cost-effectiveness in many ways. As aisle décor, a table centerpiece, the guest book, or the perfect frame for your wedding table.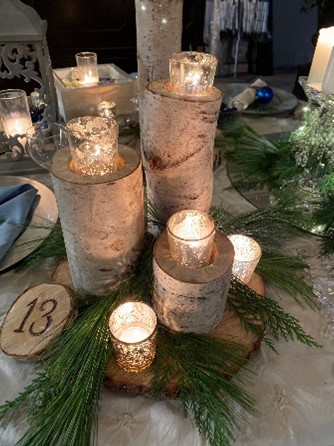 A white birch log trio garnished with fresh pine and gold votives adds to the winter white theme beautifully, economically, and enchantingly.
We could go on and on about how to make your décor elements capture a grand wintery vibe, but let's save that for another article and move on to . . .
Seasonal menus with winter foods, drinks, and desserts.
As the seasons change, so do the menus at wedding receptions. Although some staples remain popular no matter the time of year, couples happily include seasonal treats like soups, roasts, and most certainly PIES!
No matter what you choose, make sure the menu reflects your personality as a couple. And, ENJOY every minute and morsel of your wedding meal.
When planning any event, the food and beverage options are always a key consideration. Here are just a few of the many options to consider when choosing your winter wedding menu:
Seasonal menus offer a wider variety of choices, from comfort foods to festive holiday favorites.

Consider offering food and beverage stations throughout the reception space. This will give guests more variety and allow them to customize a meal to their liking. 

Hot drinks like cocoa, coffee bars, or mulled ciders can be offered as guests arrive, keeping them warm during your outdoor ceremony.

Warmed desserts are the grand finale to send guests out in the wintery night feeling warm and fuzzy.
Take your menu on by courses:
Guest Arrival stations are a must these days. 

Many friends and family members have traveled from far and wide to celebrate your wedding, so welcome them with something to drink when they arrive. Champagne is fitting for any season . . .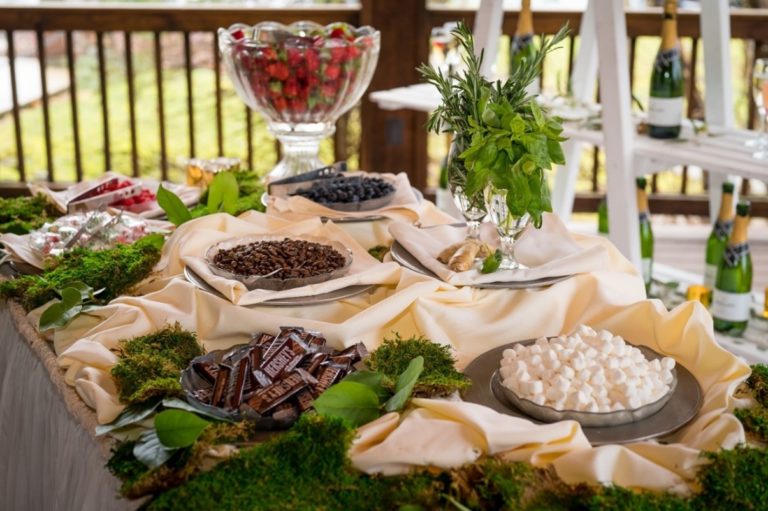 Winterize it with options to add seasonal favorites like peppermint sticks, coffee beans, chocolate chips, cinnamon sticks, and flavored syrups.
Start the reception eating with a selection of seasonal comfort foods for your cocktail hour. Incorporated soup stations, grilled cheese bars, or fountains of warm dark chocolate complete with dippers like bacon strips, jalapeno poppers, and bacon-wrapped chicken bites.
Hot and Steamy Signature Drink Stations add a "buzz" to any celebration.

Try a StroudS'more Cocktail Bar or warm cider and donuts for your guest arrival station.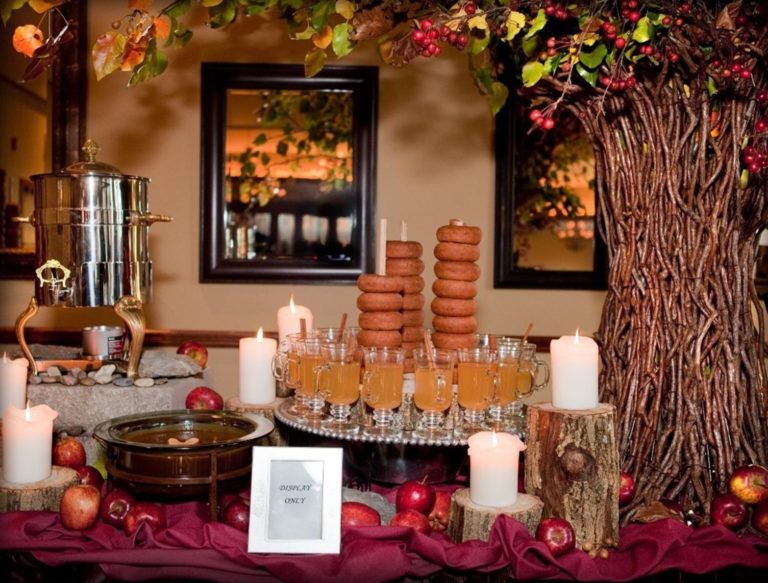 Soup or Salad – Soup of course! Nothing says welcome to winter than the warmth of a bowl of Mrs. P's Tomato Zucchini Bisque with grilled cheese toast points.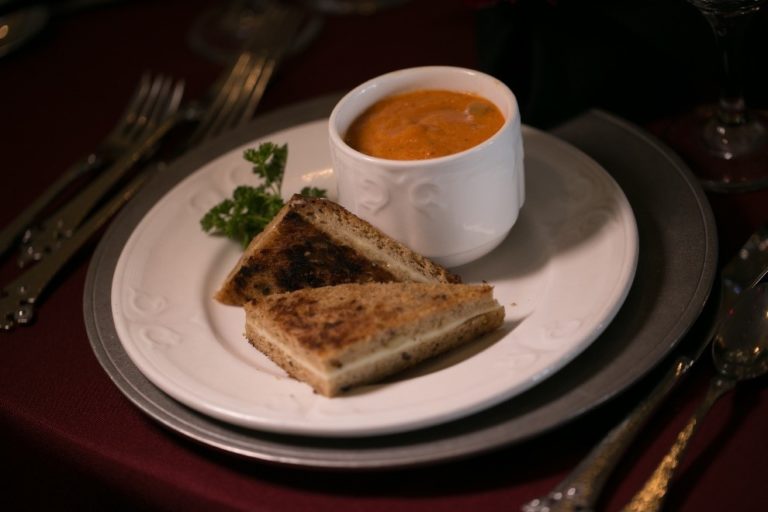 The Main Course provides many wonderful winter options:
Honey-glazed Ham is a classic choice. The sweet and savory glaze is the perfect way to add flavor to the meat. Try Stroudsmoor Raisin Sauce with your holiday ham.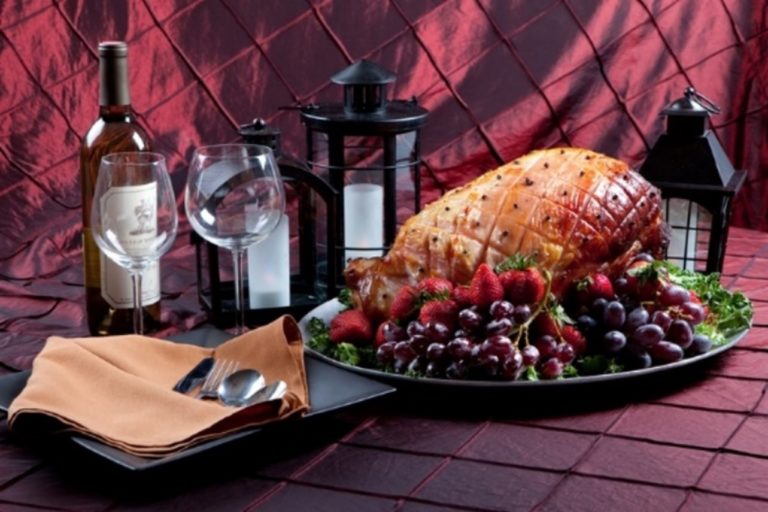 Roast turkey with sausage stuffing, warm gravy over mashed potatoes, and cranberry sauce exudes a celebratory feeling and warms the heart with thoughts of family holidays and memories of gathering for dinner. Make a memory at your winter wedding by setting a "thankful table" for your wedding guests.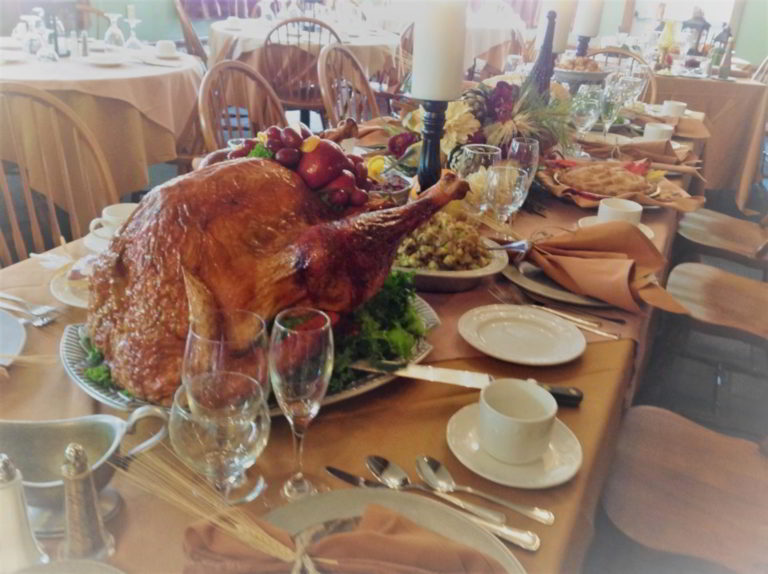 The NEW White-meat for your Winter Wedding – Tenderloin of Pork. Known to be lean, so it's healthy and relatively low in calories, this roast adds a bit of surprise to the menu. It's not the same old chicken dish. Whether you serve it grilled, roasted, stuffed, or sautéed guests will surely want to give it a try.

Shown here filled with Stroudsmoor Holiday Stuffing.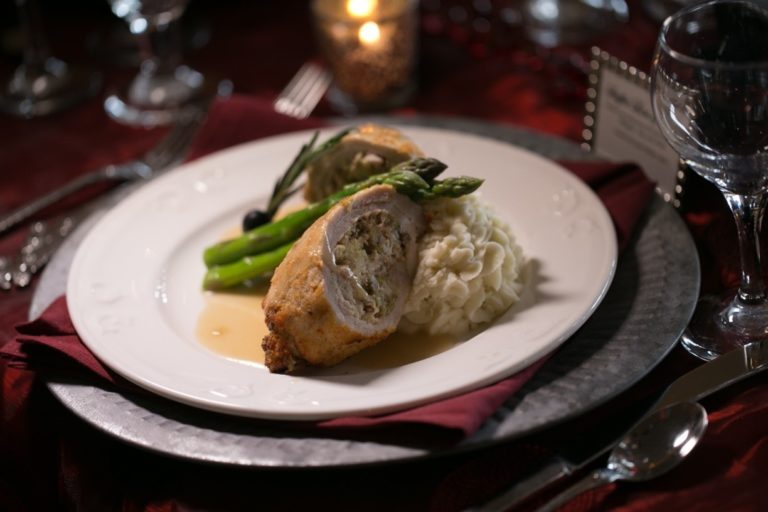 Don't Forget Dessert.
Liquid Desserts are all the rage –let them eat CAKE, but drink COFFEE! Think of warm beverages from hot chocolate to cappuccino.

Add an adult twist with Bailey's and Bourbon. Create your signature beverage with a selection of your favorite coffee beans or your preferred custom blend of tea. And, complement them all with Stroudsmoor Inn Towne Bakery Biscotti.
Old Favorites – candy bars, cake carts, and "White Desserts". What is a White Dessert, you ask? The answers are enlightening . . .
White Chocolate Cheesecake
White Russian Teacakes
Cream Puffs powdered with white confectioners' sugar
Whipped cream covered Vanilla Decadence Cake – a favorite Stroudsmoor Wedding cake flavor
Coconut Custards – pies and puddings
Crumb Cakes Covered in a blanket of powdered sugar
Meringue Pies and Cookies
White Chocolate Macadamia Cookies
Angel Food Cake – covered with White Chocolate Ganache
Marshmallow Fluff over Krispies
Coconut Macaroons . . . this list goes on and on!
Can you name a few more to create the perfect White Dessert Table?

The Classic Pie Station . . . pie is a dessert for all seasons. Nuff said!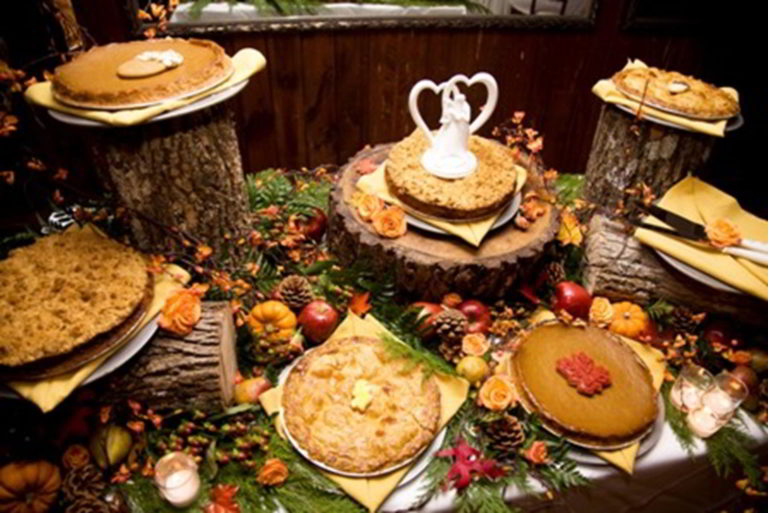 Childhood Pleasures – Cookies and Milk Stations, Camp Fire S'mores, Brownies, and Cocoa – create a signature dessert station like "Makein' Whoopie" . . . pies of course!
Chocolate Chip, Oatmeal Raisin, Peanut Butter, and the "classic dunker" Oreos, make for the perfect Cookies and Milk Station, and a great milk mustache! Make all your dessert wishes come true at Stroudsmoor Inn Towne Bakery Café – www.stroudsmoorbakery.com 
Warm Desserts will end the night with a fond memory of a day filled with love and laughter!

Cobbler Stations – apple, pumpkin apple, sweet potato, and cran-apple crumb served warm with a complementary compote like; bananas foster, strawberry coulis, or hot chocolate sauce.
Bread Pudding Bar – an old-fashion treat.
Choose raisin bread, chocolate, or a traditional bread pudding, and serve it with a side of Bourbon Maple Syrup or crème de cacao.
Scones straight from the oven with whiskey butter and season cream cheese. Add a cup of Jo for the perfect Dessert to Go!
More Venue Dates and Better Rates
Among the great benefits of getting married in the winter are value-added dates. Value dates are prevalent in the first quarter of the year making date selection easier. They come with special incentives to create the "WOW-factor" without breaking the bank!
The keys to getting the best rates in winter, spring, summer, or fall are:
Flexibility – have a first, second, third, and even fourth preferred date.
Know your Budget – never let the venue or vendor tell you what your budget is, establish your min. and max. in advance and share it with the planner before diving deep into things outside the scope of your budget.
Choose Wisely – find your vision and choose a venue that embodies the details of your dream wedding. One that will include many of the décor elements that you envisioned thus mitigating the expense of "setting the stage" for your wedding theme.
Never say Never – think outside your preferences and consider all options even if it means changing the vision and creating a new "dream wedding" theme.
Research, research, and research some more – remember to limit the venues and vendors you interview by the process of elimination through online research. Be intimate with the services and facilities your top three venues/vendors offer and prepare a list of questions accordingly. Never go into an interview unprepared!
Winter Weddings are Intimate and Magical
When envisioning a winter wedding, imagine close family and friends gathered around the fire, sipping warm beverages, and enjoying the sweet and savory aromas of season fare.
If you choose to have your ceremony outdoors, take advantage of the natural beauty around you. There is something undeniably enchanting about winter weddings. The air is still, the snow blankets the ground, and the comfort of a warm fireplace can create a truly magical setting. While some may worry that the colder weather will make for a less relaxed wedding day, embracing what makes winter special can enhance the experience and create lasting memories.
Complimentary elements such as blankets, Pashmina Scarves, and hand warmers will check the wedding favor box and ensure your guests enjoy the ceremony in comfort. Decorations can add warmth and comfort to a winter wedding. Decorative details help to create a relaxed and memorable atmosphere that captures all that makes winter special.
Here are some décor elements that will enhance the warm and cozy feeling at your winter wedding:
Draping from the ceiling to add softness to the venue while keeping the heat from rising to the ceiling.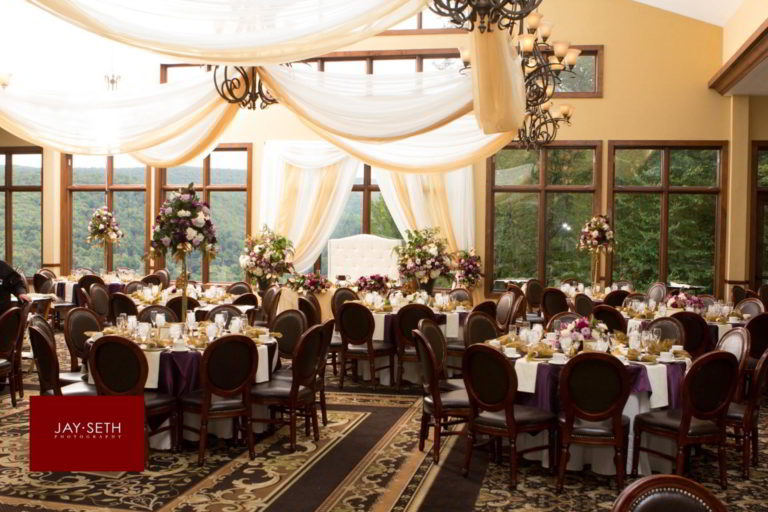 Staging the fireplace for formal photography.
Adding iconic winter elements like twinkling white lights to the altar, snowflakes to a cake, or mitten-shaped cookies to the dessert table.
Embrace your venue's Holiday Décor – run with the colors and style decking the halls of your venue. This saves time, effort, and dollars!
Starting a new chapter in your life as a married couple in a serene winter wonderland is a memory that will last a lifetime and be renewed with every snowfall for years to come.
Stroudsmoor Event Planners will assist you with every element of a Winter White Wedding. From the back-end equipment like outdoor heating, blowing snow for photography, and creating "warming areas" for guests as they await the bride's arrival – to the last dance under a wintery night sky filled with fireworks!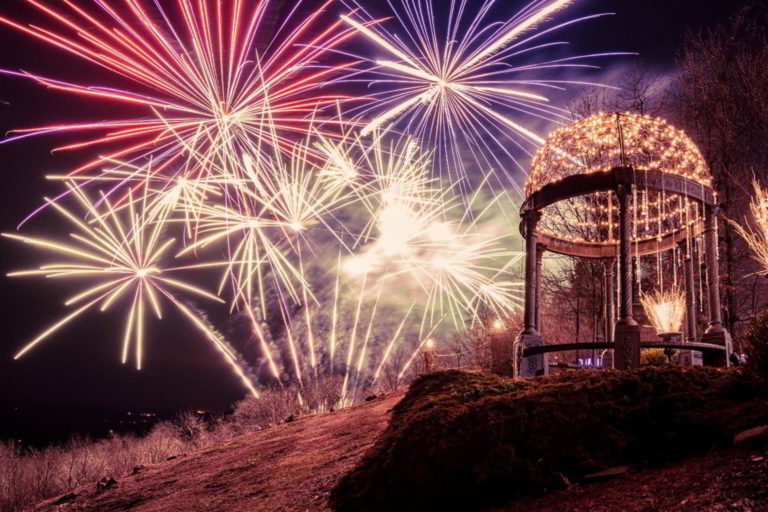 To discuss your winter wedding options, please reach out to The Wedding Warrior.