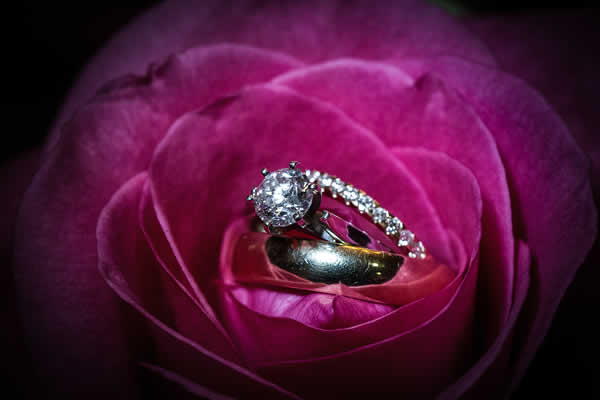 The holidays have passed and you now see many of your friends and family members gushing over their recent engagements. Seeing the happiness that this brings may have given you the push you need to take the leap. The leap being . . . ring shopping! Valentine's Day is coming, so what better day to pop the question than one meant to express LOVE!
So let's talk about the ring. Don't get the same-old, same-old so-called Classic Style; your partner is special to you, so make the ring special too. Learn what cuts and sizes would complement their style and personality. Meaning, it should not be huge and flashy if the jewelry they wear tends to have an understated feel. This ring, a sign of your love, will be worn with pride and affection, so the most important part of ring shopping is not – bigger is better – but rather what will your intended love forever.
Sometimes, our loved one will drop little hints, like posting their favorite rings to their Pinterest board, or sharing pictures discreetly in magazines. Another good way to make sure you get something that is perfectly suited is to enlist the help of friends; even mothers are a good resource when shopping. This will help you become more confident in choosing the perfect setting, diamond color/cut, and style. If you want to go it alone . . . you can find help online. Listed below are some sites I find have good information about diamonds and engagement rings – giving you enough good information to get started on your search for the perfect ring. These sites will describe the most popular diamond cuts, like round, princess, and emerald. They will also show you more unique cuts such as the marquise, cushion, or pear. There are setting tips and even the latest trends in wedding jewelry to be found on the internet.
http://www.bluenile.com/education/diamonds/cut
https://www.theknot.com/fashion/engagement-rings
If you are a visual person, there are websites to help you design a ring based yours and your intended vision. Use this knowledge to create a ring online. The design you create can help you visualize the setting, making shopping easy and stress-free.
The three most important things about picking a ring are the diamond shape also known as cut, the band or setting, and the color. Once again, if you don't know what your intended wants, do the research. Look at their jewelry is it all gold or silver, is it big, small or in between? Perhaps, even barrow a ring to get the perfect size for their finger. All of these things can help you to find "the perfect fit". When researching, be sure to check out your preferred jewelers online before visiting. You want more than a salesperson to assist you, you want a qualified jeweler who knows all there is to know about diamonds, and their accompanying settings.
Another helpful hint is to know your budget before going shopping. This is extremely important, because after the ring there are other expenses that will come along with planning a wedding celebration. You should always keep this in mind. Know what you are able to spend and stay within your budget! So, let the shopping begin . . .
Step 1, take the leap!
Step 2, learn more about the perfect style for your loved one.
Step 3, do some research, know what to look for.
Step 4, use your new knowledge and go to a reputable jeweler.
Step 5, find the perfect fit!
Step 6, Pop the question.
Step 7, take your new fiancé on a venue tour of the beautiful Stroudsmoor Country Inn to begin planning your big day!
[wpv-post-body view_template="wedding-warrior-cta"]