Once upon a time there was a beautiful couple who married atop a mountain during a winter snow.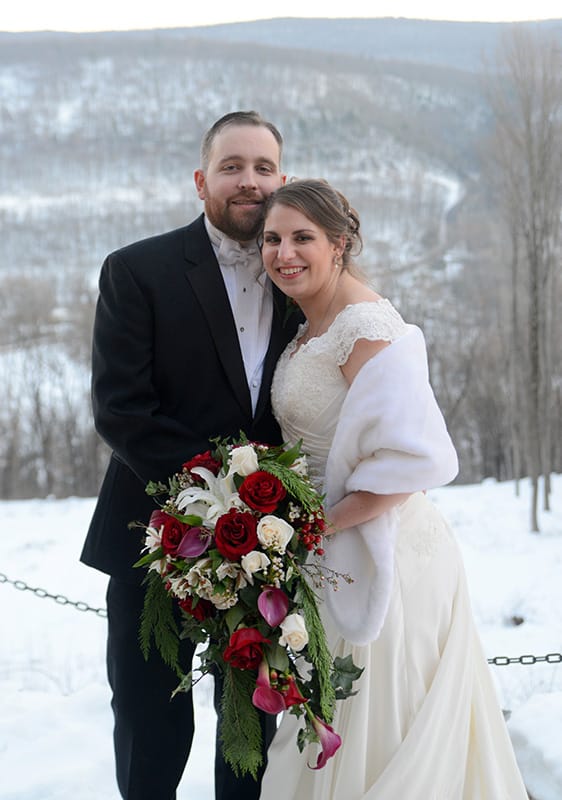 Aidan and Jennelle met at a wedding and immediately knew their dreams would someday come true at their own wedding. Beginning their journey into a traditional marriage, Aidan asked Jennelle's father for her hand in marriage, got down on one knee and asked the question – the reply, YES! The next step of the journey was to find the perfect wedding venue, and they started and ended with their visit to Terraview at Stroudsmoor.
Jennelle was drawn to the beautiful castle on the mountain at first glance. Aidan being the consummate gentleman, agreed. Then the planning began . . .
Jennelle: "Throughout the planning everyone was so kind and helpful, and we truly felt that their priority was helping us create our dream wedding day while keeping us on schedule and within budget."
The day came . . .
Jennelle: "The fireplaces were blazing, perfect for a cozy winter atmosphere, while the gorgeous chandeliers and tapestries upheld its natural elegance. Our guests were in awe of the incredible and delicious assortment of hors d'oeuvres during the cocktail hour, as well as their meals and the cake, and delighted with the attentive and professional service."
And, went . . .
Jennelle: "We had an absolutely perfect day; we are still amazed at how wonderful everything was, and so are our friends and family who continue to rave about the beautiful venue, courteous service, and delicious food!"
Then it came again . . .
Jennelle and Aidan will return to the Inn for their first Anniversary this month. We welcome them back to remember their wedding day and create a new memory on their anniversary . . . this year and every year after that.
Congratulations Mr. and Mrs. Wllach!
If you are seeking a castle on a mountain, a barn in the woods, a view from a window-wrapped dining room, or a building made of glass for your wedding celebration, consider Stroudsmoor Country Inn . . . where fairytale weddings begin.
Take your first steps to the perfect wedding by visiting www.stroudsmoor.com.