It's time to get your guys dressed and no one is really feeling the urgency to get fitted for the tux, so let's get them in the mood with a tailgating party!
Making tuxedo fitting enjoyable and perhaps bordering on fun is not an easy task for most couples. Getting guys together to go shopping is like asking them to cut off their favorite appendage. Stop asking and start inviting to something that can be fun for all the members of your bridal party.
One example of fun for all is a tailgating party, with tuxedo fitting thrown in! To make this kind of event happen, find a venue with a pub-atmosphere (outdoor pavilions work best), and see if the venue has connections to a local tuxedo vendor who will fit the groom and his men during the party. If your venue cannot offer assistance with a tuxedo provider, (find a new venue) contact Sarno and Son for formalwear rental – http://www.tuxedobysarno.com/. Some of their many locations will offer group fitting options off-site – for example, the Stroudsburg, PA location will visit Stroudsmoor to fit your party to a "T" while tailgating at the SCI Pavilion. Beer and Burgers make for great fitting fun!
Here are a few Tuxedo Tips to consider when selecting the formalwear for your wedding:
Tip Number 1: Wear the Right Socks
Fit from the toe to the head, as comfortable feet are a must for dancing the night away. Most tuxedo rentals come with shoes – you know, the ones that are so shiny that you can see what color socks you are wearing in the toe-cap. This means you must wear matching socks, or maybe not, depending on the couple's sense of humor – take a look at this Memorial weekend wedding . . . God bless America, the bride and the groom!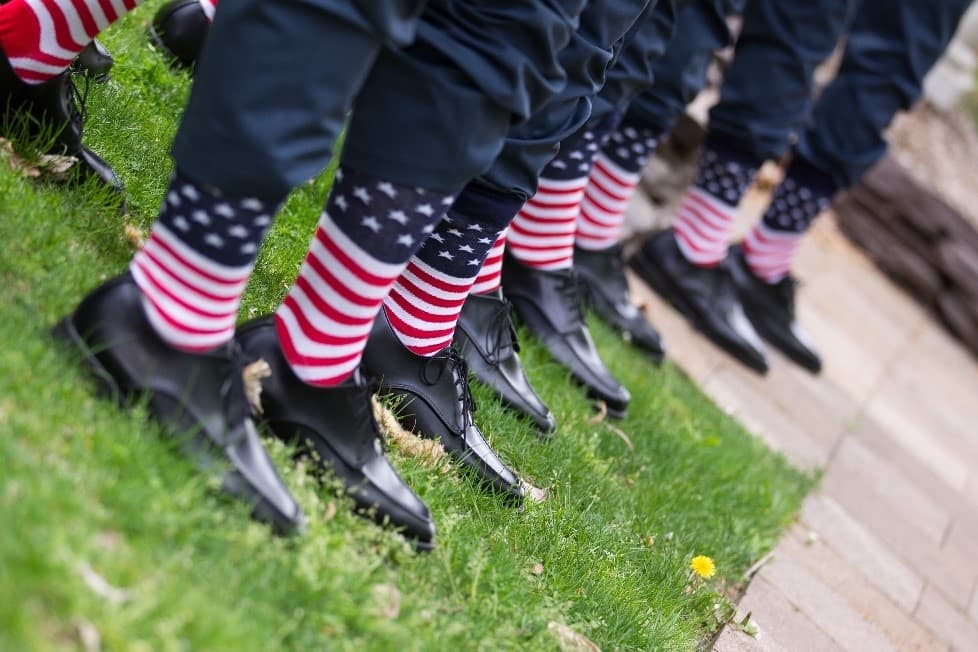 The right socks can make any gentleman move from altar to dance floor in comfort, so be sure to have the socks selected and purchased for all to test when trying on shoes for size. Weight, fiber, and sock height should all be considered for making the shoe fit.
Tip Number 2:  Check out the Shirt
Frilly is out, wing-tipped collars are on the formal side, but the classic Windsor Collar never gets old . . .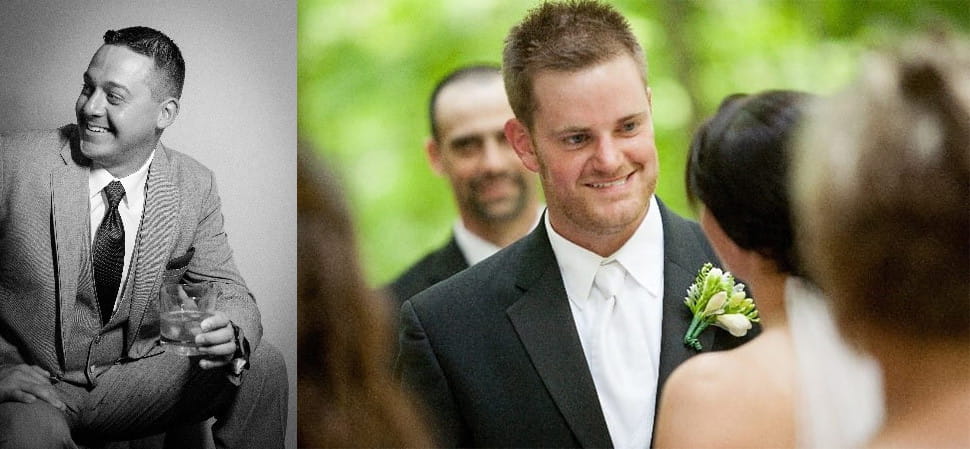 Remember, the sleeve should not be too long or too short – you should see a quarter to a half-an-inch of the shirt sleeve past the sleeve of the jacket when the arm is at rest. Measuring is key here, so get fitted by a professional, as a tape measure is not always as accurate with today's modern cuts without the eye of a trained tailor to set the length.
Tip Number 3:  Dress for Success and a Wedding
Follow these guidelines when selecting and fitting formalwear for the gents:
Don't see the socks – be sure the leg of the pant drapes over the shoe when standing to ensure that no sock is showing – unless of course the sock is the "hint of color" everyone needs to see.
Know the bodies to be fitted – there are several different "fits" for formalwear. Some styles are body-hugging slim-fitted. Others are regular-fit with traditional cuts to allow for comfort and classic look, and there are many more fit-options to consider. However, I suggest you take a mid-stream approach with the fit-style and stay away from an ultra-slim fit for wedding day attire. No two bodies are alike and more than likely not all the groomsmen have an ultra-slim body-type. Fit for the many, not for the one.
Fitted Properly – you can take tips from UFC Big Man Conor McGregor. His opinions on how a proper suit should fit are:

It should pull slightly at the buttons for a snug fit around the hip and waist
The pockets of the pants should open slightly for easy access to their contents.
Pants will be more fitted thru the thigh to show muscular legs.
The edge of the pant leg should be slightly shorter at the shoe – no Armani Break required.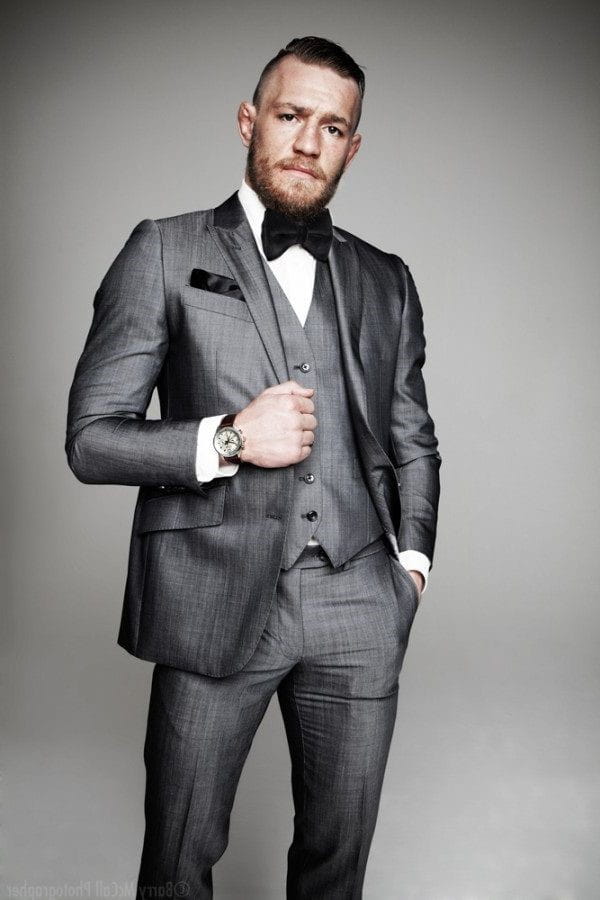 But ladies, fitted properly for Big Man McGregor is one thing, fitted properly for your big man is another. Consider his body shape, size, and comfort level when selecting the tuxedo or suit he will say "I do" in. Don't make him run from the altar in pain because of a poorly fitted garment. Err on the side of allowing more room around the waist and hip, with flat fitted fronts and pants pockets – especially if your guy does not have panache when it comes to formalwear. Most of all, remember he and his men must be able to move! They won't be running cross-country or rock climbing on your wedding day (will they?), but you do want them to float like a butterfly on the dance floor without fear of tearing a seam!
Tip Number 4: Walk, Bend, Jump and Bump During the Fitting
That's right, bust a move or two in the tux/suit before leaving the last fitting. Live in the garment for 10-minutes or so, then tell the tailor or seamstress it's a perfect fit, or have them try, try again to make it so.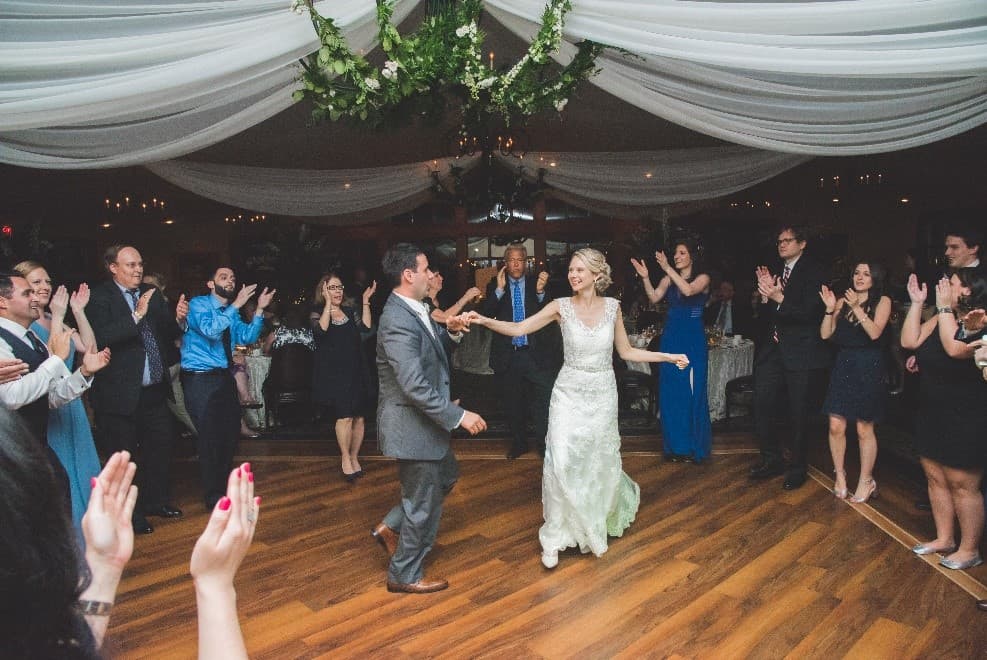 Keep in mind, fitting is a big part of finding the appropriate wedding attire, so fill it with FUN, not boredom.
Send your questions about other fun fitting ideas, like Tuxedos and Tailgating Parties, to the Wedding Warrior – she's always ready for a good fight!
[wpv-post-body view_template="wedding-warrior-cta"]