Good day couples!  Are you ready to tour wedding venues?
I am, and do every day of the week!  Here are the details of a couple who I had the pleasure of showing two wonderful venues this weekend:
Good day couples!  Are you ready to tour wedding venues?  I am, and do every day of the week!  Here are the details of a couple who I had the pleasure of showing two wonderful venues this weekend:
"The battlefield… The venue for your wedding. The first choice you have to make is your wedding venue. It's not easy. Let's follow Molly and James …"
Wedding Package Registration Info:
First Name: Molly
Fiancé's Name: James
State of Residence: VA
Preferred Wedding Date: April 2018 – flexible
Number of Guests (Approx): 75-90
I like to start the tour with congratulations on the engagement and a look at the RING!  You can learn a lot about the couple based on the style of the ring – see my post "The Perfect Fit" for more details about purchasing the ring.  Next, I start a little WW Q&A regarding their hopes and dreams.
Do they have a connection to the area – did they camp here as kids, go to college at ESU, or are they simply meeting family in the middle?  How many guests will be invited – how many are estimated to attend?  Will lodging be needed for out-of-town guests, or just the Bride and Groom?  What is the most important element they want to include in their wedding day?  The answers to these, and a few more that come up during the actual tour, will help me to guide them on the path to the perfect backdrop for their wedding vision – the VENUE!
Based on Molly and James' guest list of 100 and their desire for an outdoor wedding, I decided to tour two venues that host 75-150 guests and offer outdoor options for ceremony and cocktail hour with indoor (air-conditioned/heated) reception space.
Note to Readers:  Please keep in mind that while I have planned and executed weddings/events on acres of farmland, in theaters for the performing arts, overlooking lakes, mountains and wildlife sanctuaries – not to mention in refrigerated warehouses – my most rewarding experiences focus on the five wedding venues at Stroudsmoor Country Inn.  My work at the Inn gives us an overview of the many types of wedding venues available in NEPA.  The Inn has been ranked #1of the Top Ten Pocono Wedding Venues by Resorts and Lodges, and is a consistent winner of the Couples' Choice and Best of Wedding Awards from wedding industry leaders.  I never get tired of discussing the wide variety of wedding options available at Stroudsmoor!
The first venue we toured was Woodsgate – a two-hundred-year-old barn complete with stone walls on the lower level where the cocktail hour is enjoyed, an open-air pavilion suitable for the ceremony "Plan B", loft dining room for dinner and dancing, two bars, three fireplaces and a ceremony site in the woods . . .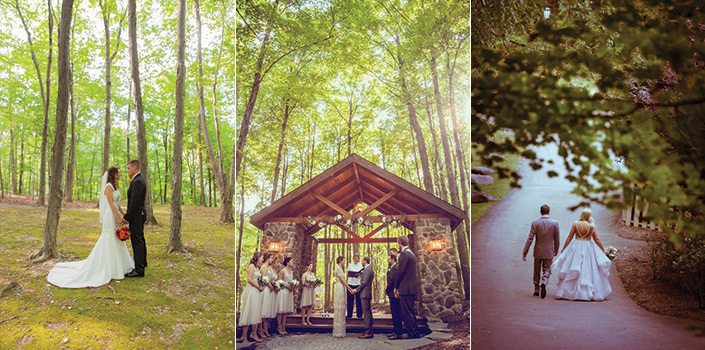 The moments following the ceremony are captured on a bed of moss in the woods at the Woodland Chapel.
Saying "I Do" comes easy surrounded by your BFF's and a forest of trees in the Woodland Chapel at Woodsgate.
On their way to the cocktail hour in the lower level of Woodsgate for the first time as husband and wife!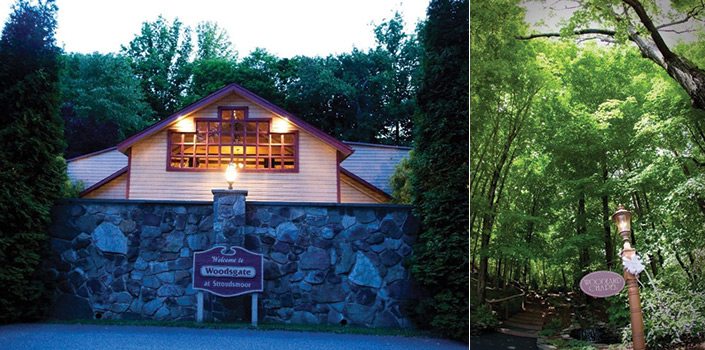 Molly and James seemed enamored with the Woodland Chapel, but I could tell that the interior of the building was not their cup of tea.  Molly wanted more of the outdoors in her day and James agreed.  So, it was time to move onto the next venue I had selected for them to see – called Lawnhaven.
By virtue of the meaning of its name – sheltered lawn – Lawnhaven offers the feeling of being outdoors without the worries of weather.  I thought this would be the perfect location for Molly and James, so as we drove to the venue, I directed them to close their eyes and listen to my description of the building and its surrounding space.
"At Lawnhaven we celebrate the ceremony on the grand lawn in a stone gazebo with a centennial bell in its tour and fire columns on either side adding a touch of glamour.  Our cocktail hour is enjoyed under a pergola surrounded by evergreen gardens, enhanced by a stone fireplace and sliding privacy walls.  Imagine your formal photos are taken in front of a three-tier waterfall filled with water lilies and golden coy swimming about.  Lawn games like cornhole and quoits are always a great addition to the celebration – guests love activities!  Finally, the reception begins with introductions of the Bridal Party to Lawnhaven proper a building made of glass – guests dance the night away with the outdoors visible from every area of the venue.  No tenting required, completely air-conditioned (or heated depending on your date), and we don't invite the bugs!"

I asked: "Can you see yourselves in the picture I have painted of Lawnhaven?"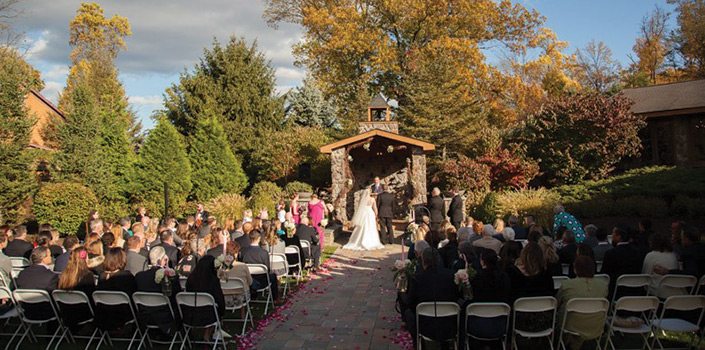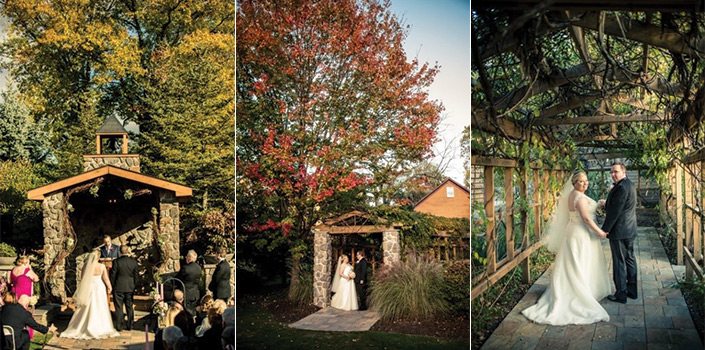 As the WW, I have worked with many, many, couples (so many as I celebrate more than 3-decades of planning).  Each one special to me and very much a part of my memories.  It always makes my heart sing when I receive a message like this one from Kelly and Ron . . .
Linda:

I has taken me some time to respond to your note as I wanted to make sure I had enough time to respond in kind.

We cannot thank you enough for everything you and your team did to make our wedding spectacular.  I returned to work yesterday and as people have been asking me about our wedding, I have said repeatedly it was a dream come true.  The room looked exactly the way I imagined it would.  People have been raving about everything about the inn – the food, the service, the location, the flowers, the setting.  Everything was perfect!

I feel blessed to have been "paired" with you as my wedding coordinator – you were attentive, helpful, caring, tireless and a true friend throughout.  I am so happy to be a part of the Stroudsmoor family – I was actually sad as I walked out of the main inn after settling my room charges.  SCI has truly become a second home to me.

We will be back – in fact, my niece, Audrey, was asking when are we going back to our PA house so we've decided to come back for tree lighting!  You should recall it was two years ago on tree lighting day that we signed our contract – so we'll be celebrating an anniversary of sorts. 🙂

Your role was anything but small – I could not have done it without you.  So, a million and one thanks and lots and lots of love.

See you in a few weeks at tree lighting! (They come back every year to enjoy making new memories at the Inn!)

XOXO, Kelly
Following the tour with Molly and James, the three of us sat down at the Event Office to discuss their wedding vision and see if either of the venues captured their hopes and dreams.  I learned that Molly is the kind of bride who really isn't into planning every little detail – as her career leaves her very little time for herself.  She wants to relax and enjoy the process of planning her wedding, allowing me to find what she needs, map-out the day and ensure she gets to the altar on time – exactly my forté!  James, her groom, was very interested in making Molly happy – as all grooms should be!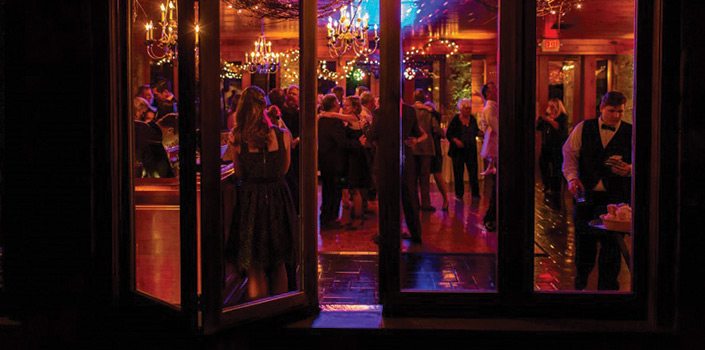 We parted with kind words spoken, a shake of hands, and a thank you for touring with the WW.  The next day . . .
Hi Linda, Thank you for the tour yesterday. James and I would like to book the Lawnhaven.

I look forward to hearing from you.

Molly
In my heart, I know they will be happy with Lawnhaven as the backdrop for their wedding, and together we will create a memory that will last a lifetime.  Let the planning begin!
[wpv-post-body view_template="wedding-warrior-cta"]