Is wedding planning beginning to get to you? Are guest counts, invitation timelines, and—in some cases—your in-laws starting to grate on your nerves? It goes without saying that planning a wedding takes a lot of time, effort, and energy, and with that often comes a whole lot of stress. That's why, as you begin your wedding journey, Stroudsmoor encourages you to let us take on the majority of the workload (including coordinating with said in-laws if need be) allowing you to sit back and better enjoy the process.
From ceremony and reception décor, personal flowers, catering, lodging, and more, you can be certain our team will handle every facet of your special day, beginning to end, without a hitch.
Meet Your 'I-Do' Crew, the Event Planning Team that Makes Weddings a Breeze
As one of the most picturesque destinations in the Northeast, there are a number of top-rated wedding venues throughout the region. However, what makes Stroudsmoor Country Inn unique within the Pocono Mountains is that we are your "one-stop shop" for all things wedding. With everything from hair and makeup artists to florists and production experts right on property, obtaining necessary wedding services and professionals is quite literally a breeze.
Some of our "in-house" team members include experienced Event Planners, Stroudsmoor's Floral & Décor Team, our Spa & Bridal Studio, Group Lodging Reservationist, Photography & Production Studio, and Culinary & Catering team.
Below, read about all of Stroudsmoor's event-planning crew working behind the scenes to ensure your wedding day is perfect and stress-free
At the Helm: Our Experienced Event Planners
When you book your wedding—or any event—at Stroudsmoor Country Inn, you are automatically assigned one of our experienced event planners. Our planners know all six of our diverse wedding venues inside and out, exclusively enabling them to circumnavigate any problems that may arise with ease. Your Stroudsmoor Event Planner remains committed to planning and executing your celebration from the moment you book your tour with us, right up through your "I-do's."
From there, your Couple's Coordinator and your Reception Supervisor (both of whom are also automatically assigned to you) take over. This dynamic duo remains with you throughout the night, partying right along through to the end of your reception. The Couple's Coordinator makes sure both you and your partner are well-attended to and have everything you need at all times. Meanwhile, the Supervisor makes sure you and your guests safely "party-hardy," preventing any incidents or hiccups. 
That said, we expect some hiccups from the bubbly. . .
Our Group Lodging Reservationist Helps You 'Get a Room'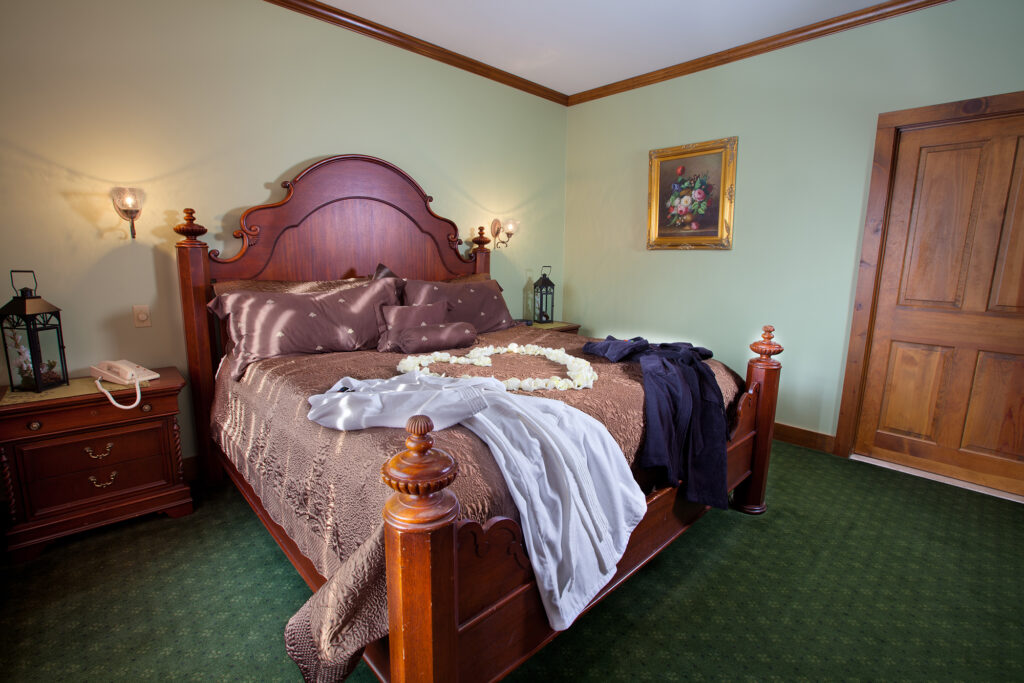 Are you expecting out-of-town guests at your wedding? Don't worry; we make lodging easy too.
Crucial to our wedding planning team is our Group Lodging Reservationist. She plays a vital role in making sure our couples, not to mention every one of their out-of-town guests, have somewhere soft to land after wearing out their dancing shoes.
As with other team members, we happily provide you the services of our Group Lodging Reservationist. Key to our event planning team, our Group Lodging Reservationist isn't only responsible for managing blocks and reservations for all 65 of our rooms and suites; she also aids in gathering and delivering hostess bags, managing bridal party noshing, and more.
Our Floral & Décor Team Brings Your Wedding Vision to Life
At Stroudsmoor, accomplishing your wedding vision is simple: you bring the vision and our Floral & Décor Team brings it to life. This includes curating all bridal florals—like bouquets, boutonnieres, corsages, centerpieces, and swags—as well as a number of rental decorations.
A small sampling of rental options include table linens and ceremony site drapery, welcome signs, card boxes, sweetheart tables and chairs, candles, lanterns, seating charts, and so much more. In addition, our team is uniquely skilled in making sure your seating charts and place cards match your florals perfectly with optional custom printing.
Take a peek at our team's extensive variety of Wedding Flowers & Reception Décor here.
Our Chefs Uniquely Cater to Your Taste Buds
Since its inception in 1984, Stroudsmoor Country Inn has built and maintained a strong reputation for exceptional hospitality and top-tier cuisine. As such, our chefs take what can become one of the most stressful aspects of the wedding planning process—the menu—and make it easy as [shepherd's] pie. And with our chefs trained in prepping for weddings ranging in attendance between 30 and 350, you can be sure not a single guest will go hungry.
The feast starts at cocktail hour featuring anywhere from 20 to 40 different hors d'oeuvres. After that, it's on to dinner service—plated or buffet—where you'll continue to enjoy the dynamic variety of flavors that our esteemed chefs prepare in our fully-equipped kitchens.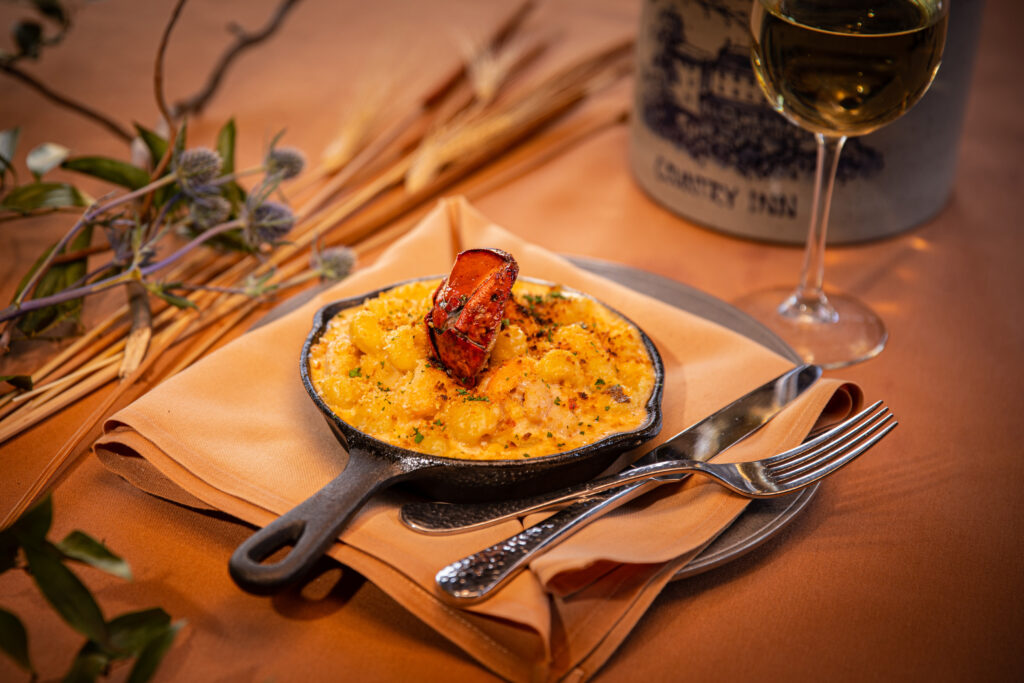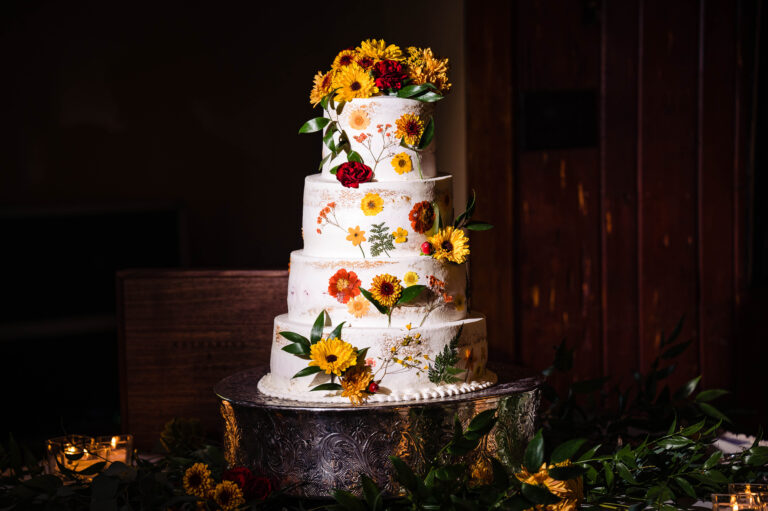 Stroudsmoor Bakery & Café makes wedding desserts extra sweet with as many as 14 different cake flavors to choose from. Included in every single one of our wedding food packages, we invite you to personalize your cake to the fullest, with seven different cake stacks and 15 icing styles available. And, as if making decisions could get any easier, we allow our couples to pick not one but two cake flavors for their special day, satisfying both partners' taste buds.
In addition to traditional cakes, our team of talented bakers are prepared to provide you with a number other weddings treats, such as cupcake towers, place-card cookie favors, chocolate-covered pretzels and Oreo favors, and more.
The team at Stroudsmoor Inn Towne is also our go-to for a range of Signature Stations, like Cookies and Milk, Bakery Bars, and Charcuterie—just to name a few.
She's Beauty, She's Grace with a Smile on Her Face
Stress-free is key at the Inn, and what better way to embrace a stress-free wedding than by paying a visit to our ever-sunshiney Spa & Bridal Studio Coordinator?
With a team of talented hair stylists and makeup artists at her disposal, you can be sure that when it comes time to walk down the aisle, all of your hair and makeup needs will have been met.
We look forward to providing you and your bridal party with a relaxing environment in which to prepare for your "I-do's."
Capture the Moment with Our Photography & Production Studio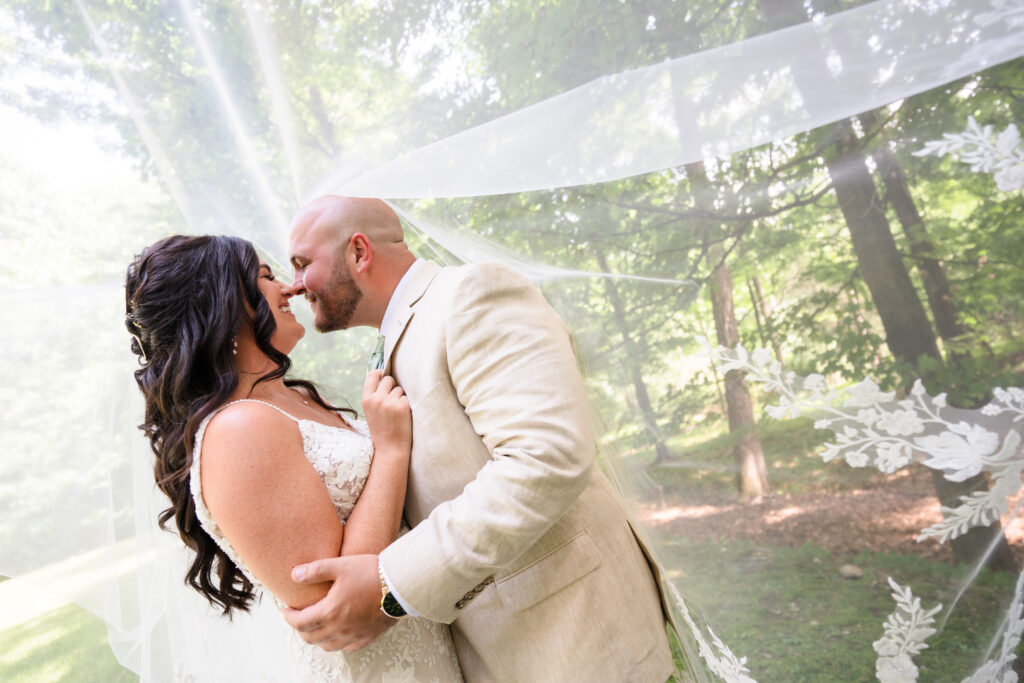 At the Inn, we don't only provide the backdrop for a picture-perfect wedding; we provide the pictures—as well as DJs, musicians, uplighting, and photobooths (among other services)—too.
With our very own Photography & Production Studio on property, we proudly supply you with all tools and experts necessary to capturing every aspect of your special day. 
Further, when you sign with us, you gain access to an ample list of local professionals who well-know our staff and property and are best-equipped to make sure your wedding is perfect.
You've Met the Team. . .Now What?
Attend a Stroudsmoor Wedding Sampling Event
Now that you've "met" our I-Do Crew and have seen a little bit of everything Stroudsmoor offers its couples, you might be wondering what comes next.
Our first recommendation is to attend one of our semiannual Wedding Sampling Events. Held once in the fall and once in the spring, these events allow you to see, touch, and taste your way to a perfect wedding—read more about it here.
We look forward to seeing you at Sampling!