It has been my great pleasure to assist so very many wonderful couples with their wedding celebrations – and I mean MANY, MANY! During the course of my 38-years of event planning, I have been blessed with countless opportunities to bring two people together for what is a lifetime of happiness as a couple.
This month we celebrate marriage equality by welcoming another amazing couple to the Stroudsmoor Family – Sean and Michael. They will be married at Terraview on August 24, 2019. I am proud to share their beautiful story . . .
---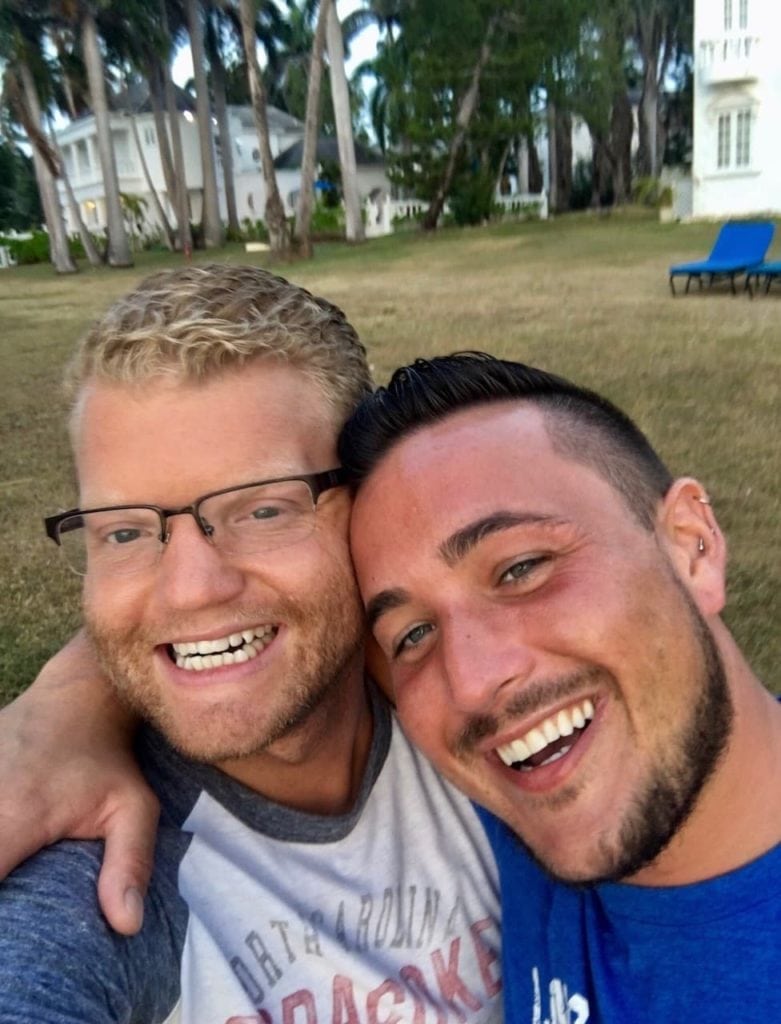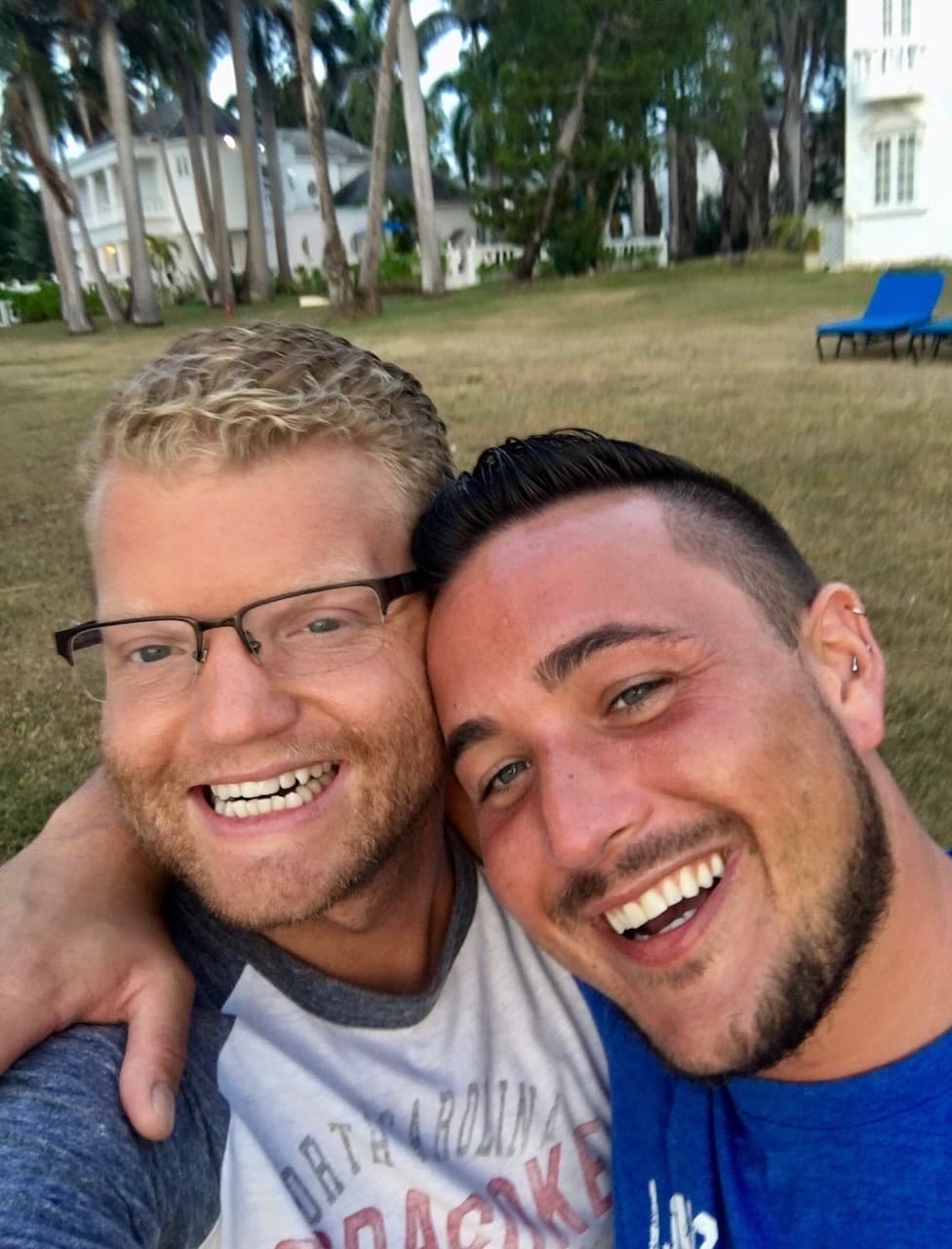 "Sean and I met online and took a liking to one another instantly. We started dating each other in June 2015 and since then have made many memories together. I was always a fan of long road trips so while dating we took several trips up and down the east coast with one another. Some of our trips include Salem Massachusetts, Nantucket, Gettysburg, Charlotte, Asheville, Charleston, Ocracoke – The Outer Banks, Orlando, and Miami, just to name a few. It was on these long trips that we grew even closer to each other and fell in love.
February of this year, Sean and I took a trip to Cancun Mexico and this is where I proposed. We woke up early on the morning of February 18th and took a walk down to the beach, it was amazing to watch the sunrise over the beautiful blue seas. After enjoying the scenery for a bit, we started walking off the beach and I knew this was the moment. I got on one knee and asked Sean to marry me and spend the rest of our lives together. It was from here the wedding planning started, well maybe Sean was planning his dream wedding way before this, but let's say this is when the real planning began.
Sean wasted no time in setting up appointments to tour venues as soon as we got home. Everything we saw had their perks but nothing was exactly what we had envisioned for our special day. We visited The Stroudsmoor Inn for the first time on a Saturday in March and knew nothing about it except Sean's aunt and uncle attended a wedding there and said it was one of the best they had ever been to. From the moment you walk in the Events Office door and hear the brass bell ring there is something distinctively different about this place. We met Victoria who took us on a tour of all of the venues that Stroudsmoor has to offer. However, we could not view Woodsgate as there was an event taking place. Victoria told us we could come back the next day to view the venue if we would like when it was not in use. Although this meant we were going to have to take another ride from New Jersey the next day to The Stroudsmoor, we found it very respectful of them to not barge in on the party that was taking place so we could see it. We had been to so many other venues where the staff would parade us through someone else's special day to try and get another booking. At the Stroudsmoor it is not like that. They want their guest to have the perfect day, this means no interruptions.
The next day we took the ride back to Stroudsmoor because we knew this place was special. We also brought along Sean's mother Demetria for the trip, we wanted her opinion and she agreed that the site was wonderful and had so much to offer. We were shocked at the number of options that The Stroudsmoor has to offer, including how many venues they have allowing them to host 6 weddings on the same day! We now toured all the venues and found something special about each and every one, at the end we decided Terraview was the one for us. It was at this time we met Linda Forte, and this changed everything.
Linda's warm and approachable personality made us feel like we were making the right decision. She told us about her family and their history at The Stroudsmoor, her mother's recipes, her sister who put all of her love into the flowers as the head florist until she recently passed away, and their belief that we are not just another couple getting married at their venue but instead we are joining their Stroudsmoor family. Linda told us how so many generations of families come back to this special place celebrating future monuments in their lives. We fell in love with Linda's story and she made us feel so welcomed as a gay couple.
For me I wanted a location that was beautiful and would make everybody say WOW – this is stunning. For Sean, he was very concerned about the food, the taste, the quality, and the amount being served. He would say to me it's all about the food but I was too busy looking at the trees, the views, the stone, flowers etc. Linda explained that they would have plenty of food and would actually serve seconds to our guests for dinner. Sean and I were shocked by this and when we ate at the Inn we were very impressed with the quality of the food and look forward to the dinner tasting in March.
Since our first visit back in March, we have been going up to The Stroudsmoor every few months meeting with the team to plan our big day in August of 2019. Everyone is so friendly and professional at the Stroudsmoor, they truly make you feel part of the family. "We do not do handshakes we do hugs" said Linda at our first meeting, and this is true, we are greeted with a welcoming hug every time we see them. After each of our meetings we always look forward to going and having lunch at The Inn. The food and service are always great and we both really feel a connection to The Stroudsmoor as a gay friendly wedding venue. We cannot wait to plan more of our wedding with The Stroudsmoor family, and we already talk about having future events with them, it is truly a one of a kind place."
Happy Pride Month!
Michael & Sean
Congratulations to a couple who knows the value of love, respect and family . . . I look forward to helping you create your #BestDayEver and your #HappilyEverAfter.
---
[wpv-post-body view_template="wedding-packages-cta"]