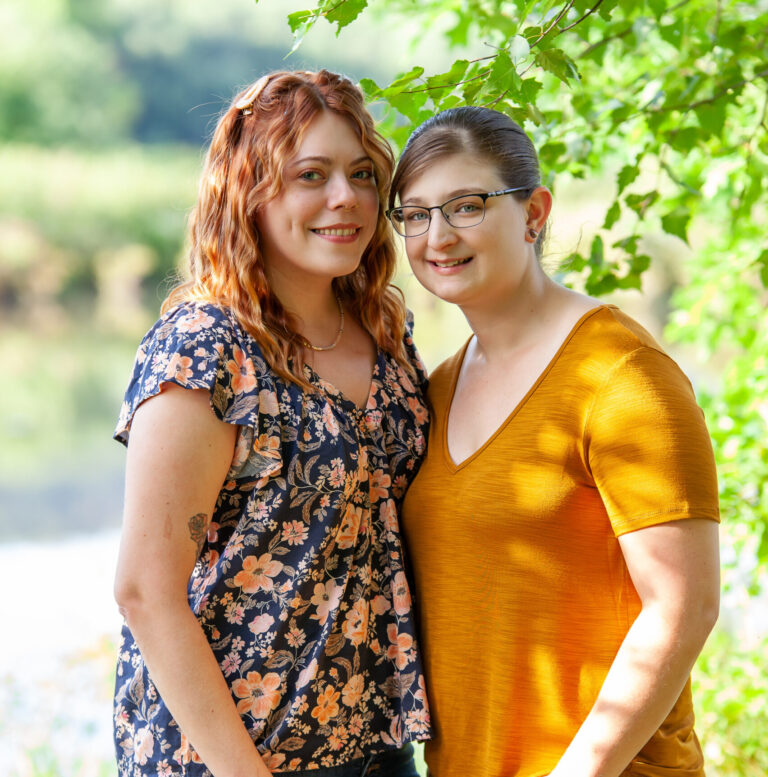 Samantha Edwards & Katie Skolsky Reach the Final Stretch in Their Countdown . . .
In just over a week, Samantha Edwards and Katie Skolsky will celebrate the beginning of their forever right here at Stroudsmoor's mountaintop venue, Ridgecrest. With an unparalleled view of the surrounding Pocono Mountains—which have finally begun morphing into shades of red, orange, and yellow with the approach of fall—Katie and Sam's "I-do's" are sure to be as memorable as their engagement story. Read more about it below.
"The [following] photos are of my engagement shoot!" Samantha shared with her Stroudsmoor Event Planner earlier this year. "These photos were taken at a lake near [Katie's] family's home in Boonton, NJ."
Photos from the couple's engagement shoot reflect the very same colors we expect to see around property this season.
Reflecting on their incredibly unique proposal, the bride-to-be continued, "I proposed to [Katie in] May 2022 at Cherry Springs Park, PA. We were camping out there, about a 4-hour drive for us, to see the clearest skies on the North East Coast."
While nothing says romance like a star-filled sky, she said, "With our luck, it rained the whole time. It cleared up once, at 2 a.m., so we rushed out of our tent (keep in mind it's about 45 degrees… so cold) and stared at the most amazing night sky I've ever seen. I was prepared, and so nervous, but I dropped down, right into the mud, and asked her to marry me. It was perfect."
In addition to their engagement photos, Sam also shared that rather than a traditional proposal with a ring, she instead proposed to Katie with a gorgeous pair of blue, green, and gold earrings—not unlike our own galaxy in appearance.
We can't wait to see the beauty of Sam and Katie's wedding unfold!