Are you thinking about celebrating your wedding outdoors at venue in the Poconos?
Outdoor events are becoming increasingly popular these days for their natural beauty and relaxed atmosphere. In fact, they are now considered to be the most in vogue way to celebrate a special occasion. Outdoor wedding venues offer a unique experience to guests who attend them. The beauty of the outdoors allows for a more natural and intimate wedding, as well as an opportunity for guests to get outside and enjoy the fresh air. Outdoor wedding ceremonies are now the norm for couples celebrating in 2022 and beyond – with outdoor-undercover cocktail areas for the reception being a requirement for more than 90% of engagement couples selecting their wedding venue.
The Poconos is an amazing place to have your wedding or special event. This preserve of beauty, serenity and history is in Northeastern Pennsylvania and is easily accessible from New York City and Philadelphia. There are many resorts, hotels, and venues to choose from that can accommodate any size event. The Pocono Mountains are also home to some of the most beautiful countryside and state parks in the country.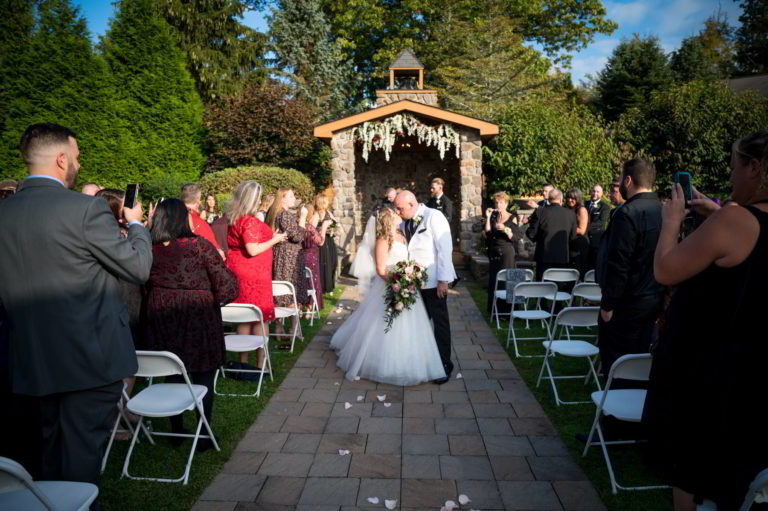 Perhaps you're thinking "green" with your wedding theme, and you dream of being married in a garden surrounded by greenery. Choosing an open-air venue is not only the perfect fit for any nature lover, but it can also be environmentally friendly, featuring decorative elements indigenous to the venue's location vs. those that are created artificially. A wonderful example of creating beauty naturally is evident in the Terraview Garden. This beautiful outdoor ceremony site in the Pocono Mountains takes advantage of the massive Pennsylvania Shale walls surrounding the venue. The magnificent Marcellus Rock Formations create two unique waterfalls that flank the altar area, making it picturesque and perfect for an outdoor wedding ceremony overlooking the Cherry Valley Wildlife Sanctuary.
You can add glamour to your outdoor wedding celebration or keep things simple with natural elements that blend into the surrounding features. You can help guests get cozy with warm cider and donuts as they arrive on a brisk autumn afternoon, you can say your vows surrounded by a forest of trees in the spring or have your wedding ceremony atop a mountain overlooking the scenery below as summer arrives. If one or all of these describes your wedding vision, choosing an outdoor wedding venue, or one with outdoor and indoor options, might be the perfect fit for your celebration.
Celebrating your nuptials at an outdoor wedding venue in the Poconos is a great way to take advantage of the natural beauty, rustic charm, and picturesque settings available year-round. The location of your ceremony and reception is all about you. You can choose to get married in the full glory of the outdoors, under an open-air pavilion, or simply overlooking a beautiful mountain scene through floor to ceiling windows. Regardless of your final choice, one thing is certain; a Pocono wedding venue will make your special day one that you will always remember and cherish.
Stroudsmoor Country Inn is equipped for all kinds of weddings, intimate to grand.
Lawnhaven, true to the meaning of its name "sheltered lawn" allows the celebration to continue by protecting its guests from any manner of weather – rain, wind, heat, sleet or snow the wedding goes on without a hitch (save the most important one, the hitching of the Bride and Groom)!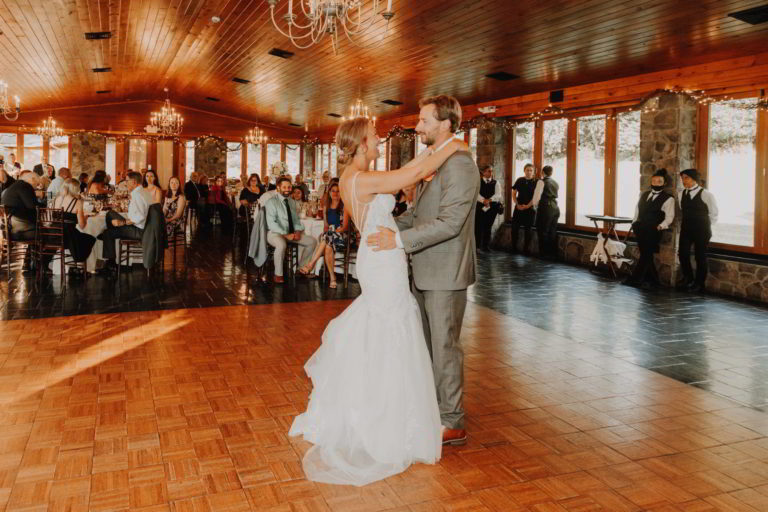 If you are planning to get married outdoors, be sure to think about the weather forecast and prepare your wedding attire accordingly. Depending on the season, the weather can change fast in the Poconos. If you want the beauty of the outdoors in the comfort of cover, you might consider Lawnhaven to be the best of both worlds!
Designed to ensure the feeling of an outdoor wedding without the worries of weather, Lawnhaven creates an open-air forum featuring immense stone columns to support a 16′ cedar-lined roof. Pewter chandeliers highlight its Pennsylvania slate floor and fieldstone hearth. The most outstanding architectural feature is the magnificent glass windows providing views of "The Grand Lawn." Other features include an exquisitely appointed evergreen garden complete with waterfalls, a grand staircase for the bride's entrance, an open-air pavilion for the cocktail hour, and stone gazebo with fire columns for outdoor ceremonies in the cooler weather.
Groups of 75 to 150 guests are graciously accommodated for grand outdoor wedding ceremonies and receptions at Lawnhaven.
Enjoy the gallery of Lawnhaven Weddings below and if your dream is to be "GREEN" then call 570-421-6431, Extension 420 to arrange a tour of all six of Stroudsmoor's private event venues. Each venue offers a unique indoor and outdoor space for weddings of 30-350 guests!
Our wedding packages go into greater detail about our customized ceremonies and receptions built for each of our six dedicated venues.
Stroudsmoor Country Inn ... Dedicated to Life, Love and Happily Ever After.